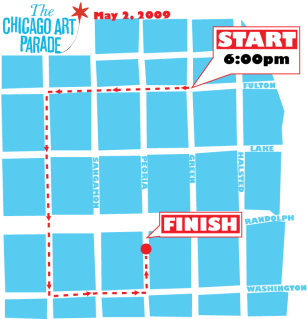 I first met Kevin Stanton several years ago at the old Western Exhibition's space. He was wearing a pair of gold Adidas Forest Hills. This detail probably doesn't matter but I was impressed with someone that could pull off a pair of gold shoes. Kevin has consistently organized awesome projects in both New York and Chicago so I was really excited to see what he had in store for the Chicago Art Parade.
Could you tell me a little bit about what one might see from the Art Parade on Saturday? Are there going to be floats? Can the audience participate?
The Chicago Art Parade will feature a huge array of art and performances created by over 170 local and regional artists. Don't be surprised to see two radical marching bands, Mucca Pazza and Environmental Encroachment, a small army of freak bikes, mermaids and pirates, fluxus performances, and some amazing sculptures. Not to mention the art cars in attendance, including a double-decker moster bus with a kitchen on the first floor and party on the roof, a U.F.O. drawn covered wagon, and a car that can be best described as a "magic laser." More than a few of the presentations will have audience participation.
How did the Art Parade come about? I saw that it was inspired by Deitch Project's Art Parade.
After collaborating with Dread Scott on a float for the Deitch Art Parade in New York, Ed Marszewski and I met to discuss this year's Version Festival. It was at those initial meetings in December of 2008 that the plan of producing an art parade in Chicago were worked out. The Chicago Art Parade differs from the Deitch Art Parade quite a bit. While the Deitch Projects hosts superstar New York artists, Chicago's parade is more interested in bringing local art communities together.
Is it at all connected with 2007's Carnival of Art on the River?
In the wake of The Carnival of Art of the River (also known as Art War), everything is influenced by the months of planning and community building that brought that project together. The Chicago Art Parade is the well mannered sibling of the Art War. However, we have some surprises planned!
The Chicago Art Parade
Saturday May 2, 2009 6pm
Begins at Fulton and Green
For more information please visit the Chicago Art Parade's site.
Meg Onli is a visual artist and blogger born and raised in Los Angeles, California. Meg moved to Chicago, Illinois in 2005 where she received a Bachelor in Fine Arts from the School of the Art Institute of Chicago. She has been with the Chicago-based art and culture podcast/blog Bad at Sports since 2006 where she is currently the Associate Producer. She has an unfathomable apatite for documentary films, 60s & 70s performance art, and cute cats. Meg has exhibited work in Los Angeles, Chicago, and New York City. Currently, she is working on a project that documents her steps in recording Motwon's first girl group sensation, the Marvelettes, version of "Where did Our Love Go?"