A little mini brush-up on color theory and its uses in animation, by way of Bill Melendez' beloved 1966 TV special It's the Great Pumpkin, Charlie Brown: this essay, written by L.A.-based animator Justin Hilden, contains a scene-by-scene analysis of the use of color on the special, focusing particularly on its emotional and dramatic effects.

Of the above images, Hilden writes,
"Although the sun is part of the painted background, it appears three different times, always a little lower on the horizon and always a slightly darker, more intense red-orange. The changing sun alters the tone of the painted sky, which becomes increasingly more saturated and textured, ultimately becoming fuchsia, and then a deep purple."
Nothing groundbreaking here, of course, but it's wonderful how Hilden breaks something so familiar down into its component parts, and makes you look at it in a whole new way. Read more from Hilden's essay here. (Via Blur + Sharpen).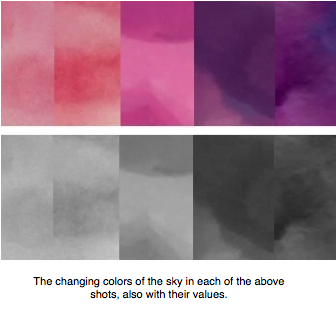 Claudine Isé has worked in the field of contemporary art as a writer and curator for the past decade, and currently serves as the Editor of the Art21 Blog. Claudine regularly writes for Artforum.com and Chicago magazine, and has also worked as an art critic for the Los Angeles Times. Before moving to Chicago in 2008, she worked at the Wexner Center in Columbus, OH as associate curator of exhibitions, and at the Hammer Museum in Los Angeles as assistant curator of contemporary art, where she curated a number of Hammer Projects. She has Ph.D. in Film, Literature and Culture from the University of Southern California.
Latest posts by Claudine Isé (see all)