Last week Edward Winkleman linked to a couple of art-related iPhone apps, and one in particular caught my eye because it sounded like exactly the sort of thing I need to make my gallery-going life in Chicago easier. It's called Artnear, and, with some beefing up of its Windy City listings, it has the potential to be an extremely useful tool for viewing art on the fly in this city.
In a nutshell, Artnear uses the iPhone's built-in GPS to locate those art venues that are nearest to your current location. Even better, each listing provides you with information about the gallery's current shows, along with its address and phone contact info. A link at the bottom of each listing allows you to click directly over to the venue's website. The Artist search tab gives you a list of artists who are currently showing in your city. The app's Calendar function was sort of buggy on my phone – I couldn't click open all of the days of the week– but in theory, it's supposed to provide you with a list of current and upcoming shows that are opening and (even more useful to me) closing during a particular week.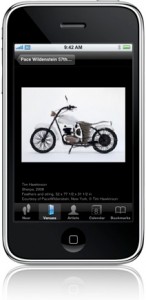 Artnear is free (there's a Pro version for $4.99, but for Chicagoans I'd definitely advocate sticking with the freebie version until they substantially increase the listings in our area). Hopnear, the company that puts out this app, has a page on the site for emailing your suggestions for venues they should add to future versions.  I emailed them this morning with suggestions for about five additional venues and was pleasantly surprised to receive a friendly thank-you email back just a few hours later. This is a good sign that the company is taking the feedback/user contribution part seriously — which I'd been a bit skeptical about after reading on Hopnear's FAQ section that the app is "designed to help busy people find the best, internationally recognized galleries regardless of their location. With out service you will no longer have to skim through a list of hundreds of galleries including antique shops or similar."
Although it's fine by me to ixnay the antiques, I think it's a really bad idea for the folks behind this app to try and prescreen so-called "quality" venues for its users. More listings, not less, is what makes an app like this really useful. As with any city, a lot of great art here is relatively easy to find, but what makes Chicago so different from other major art cities is the fact that so many quality shows take place at smaller venues whose publicity arm is mainly word-of-mouth.
In theory, apps like Artnear have the potential to radically level the playing field by organizing and centralizing all of this information via a single, portable device like the iPhone, and further hone in on relevant data by taking your current geographic location into account. It's a great little app with tons of potential — but if Artnear wants to become a truly indispensable tool for Chicago artgoers, its designers need to keep the uniquely heterogeneous spread of this particular city's art scene in mind. Here, bigger doesn't necessarily mean better.
Claudine Isé has worked in the field of contemporary art as a writer and curator for the past decade, and currently serves as the Editor of the Art21 Blog. Claudine regularly writes for Artforum.com and Chicago magazine, and has also worked as an art critic for the Los Angeles Times. Before moving to Chicago in 2008, she worked at the Wexner Center in Columbus, OH as associate curator of exhibitions, and at the Hammer Museum in Los Angeles as assistant curator of contemporary art, where she curated a number of Hammer Projects. She has Ph.D. in Film, Literature and Culture from the University of Southern California.
Latest posts by Claudine Isé (see all)