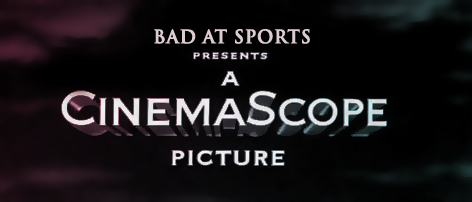 In 5 more days Bad at Sports enters it's next chapter and in anticipation of that we wanted to make things better and easier for everyone.
One way was to put our podcasts in Dolby 5.1 surround sound but after hearing Duncan sing the "Art Reviews" song in virtual surround they stopped returning our calls.
Then we thought about doing the news in 16:9 widescreen but it broke Richard's Iphone and only Brad Pitt looks good in widescreen (and there has been enough said about him to last a lifetime) so we ditched that idea.
So in the end among the many additions that are coming starting November 1st, the first of which is our new font for the site Helvetica LT Condensed.
Many already have it on their systems but if you don't you can search for it online easily. See Bad at Sports as it was meant to be seen and we will keep working to bring you the best Art interviews & coverage for free as we have for over four years.
Maybe we can bring Hans Laube's Smell-O-Vison back? Then again maybe not? How much Turpentine, Rope, Printers Ink, & BO can you take for 60 minutes?
Christopher Hudgens is the Operations Manager for BaS and works in various other capacities for other organizations in the Chicago Art & Culture scene. Most recently as Business Operations Manager for the Bridge Art Fair and currently an advocate for all things art & technology.
Latest posts by Christopher (see all)