Mike Andrews and Noah Singer of the Chicago-based art t-shirt company Imperfect Articles just let us know that for the next twelve days, they'll be adding a new t-shirt to their website store every day. Previously, these shirts were only available at art fairs (most recently Basel last month) but for the proverbial limited time only, you can grab one from wherever you are, starting with a shirt designed by Dublin-based artist Atsushi Kaga.  Here's what today's shirt looks like: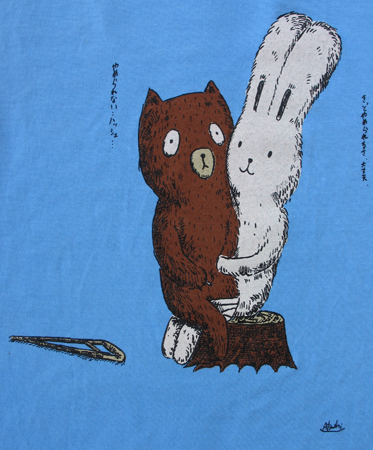 The text is printed in Japanese, but here's a rough translation:
Bear: "I can't quit smoking pot."
Bunny: "Yes, you can, you'll be fine."
Act now; there's only a limited number of this edition left in stock. Yeah, I know that's what they all say, but with Imperfect Articles you can believe it.  Click here to order. Check back with the website each day to see what new shirt they'll have up next.
If you want to learn more about Imperfect Articles' unique blend of art and commerce, IÂ  interviewed Noah Singer a few months ago for New City; you can read the article here.
Claudine Isé has worked in the field of contemporary art as a writer and curator for the past decade, and currently serves as the Editor of the Art21 Blog. Claudine regularly writes for Artforum.com and Chicago magazine, and has also worked as an art critic for the Los Angeles Times. Before moving to Chicago in 2008, she worked at the Wexner Center in Columbus, OH as associate curator of exhibitions, and at the Hammer Museum in Los Angeles as assistant curator of contemporary art, where she curated a number of Hammer Projects. She has Ph.D. in Film, Literature and Culture from the University of Southern California.
Latest posts by Claudine Isé (see all)