I posted about this little gem of a film a few weeks ago here; since then, I've had a chance to view "Herb and Dorothy" (directed by first-time filmmaker Megumi Sasaki) and just as I'd hoped, it's terrific. It's screening in Chicago this weekend at the Gene Siskel Film Center, so here's your chance to see it too. The film has already been widely reviewed; I don't have anything more to add other than to note that I particularly enjoyed the brief but sensitive observations about the New York contemporary art collectors Herb and Dorothy Vogel made by Richard Tuttle, an artist whom I've rarely seen interviewed on camera. Quite simply, this is a film about what it takes to be a great collector: not tons of cash, not connections, not a prescient view of the market. It's about a way of looking at art, exemplified by Herb Vogel's manner of staring down an artwork with a look of ferocious, devoted intensity. Don't miss it.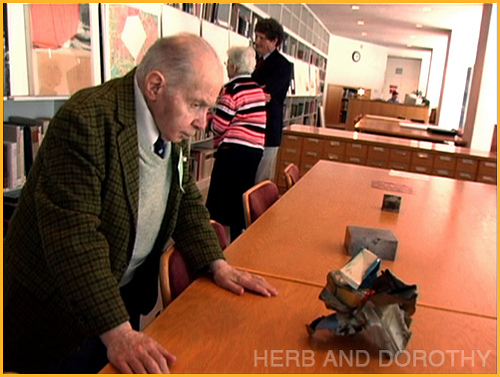 The film screens at the Gene Siskel Film Center on Friday, July 3rd at 6pm, Sunday, July 5 at 5:30pm and Tuesday July 7 at 6pm.
Claudine Isé has worked in the field of contemporary art as a writer and curator for the past decade, and currently serves as the Editor of the Art21 Blog. Claudine regularly writes for Artforum.com and Chicago magazine, and has also worked as an art critic for the Los Angeles Times. Before moving to Chicago in 2008, she worked at the Wexner Center in Columbus, OH as associate curator of exhibitions, and at the Hammer Museum in Los Angeles as assistant curator of contemporary art, where she curated a number of Hammer Projects. She has Ph.D. in Film, Literature and Culture from the University of Southern California.
Latest posts by Claudine Isé (see all)