Julius Caeser is a space tucked into a warehouse; very small, very white, very tall ceilings, half a wall of exposed brick. The show, Hear Here, features collaborative works by Kaylee Rae Wyant and Jerome Acks III, that I had read in an essay on the back of the show poster by Wyant, sought to be both"critical and patriotic". Her essay questions artistic models based on 60s reactionary politics, and their relevance in the contemporary political climate. Interesting.
The show had a total of four pieces; two paintings, a beast of a sculptural canvas work in the center of the room, and a sculpture standing near the entrance.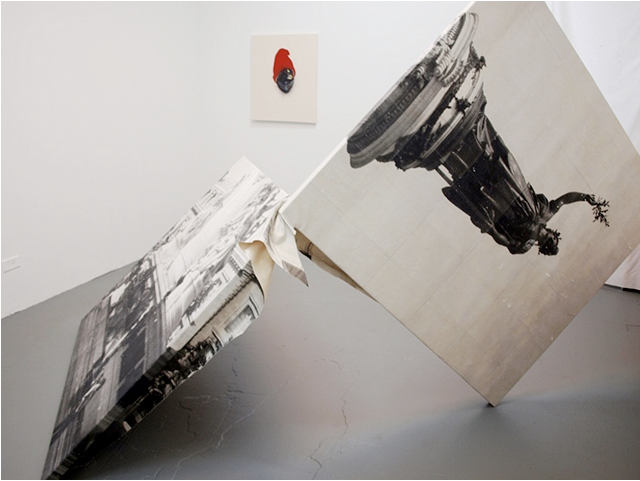 Red Hat appears to be a painting on raw canvas. Upon closer inspection, it is revealed that the gnome-like red hat is actually sewn into the canvas, and the face wearing the hat is thickly rendered in dark paint. The red insert interrupts the canvas, but it is so seamless that you could easily write it off as a straightforward painting. I find that in a lot of collaborative work there is some sort of a game of figuring out which hand created which aspect of the piece, and that was definitely not a part of this show, as far as I could tell.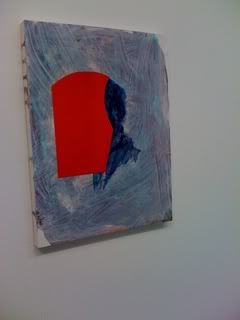 Making a Face (portrait of Simone de Beauvoir), is a classic bust portrait of (apparently) Simone de Beauvoir, and on top of this is a hard geometric shape of some red reflective material. Standing in front of the piece, my boobs were reflected back at me (I wonder what de Beauvoir would think…), and half of the bust painting behind it. This is a little too literal for me, implicating the viewer in the work through their reflection.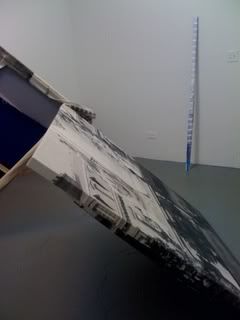 Liberatus Standing is free from the wall, constructed free standing on the ground, is made from canvas on stretchers but free from paint and dominates the space. The image is a pixelated photograph neatly stretched on the canvas, but with unfinished corners and edges. The piece feels really controlled in its rejection of convention, and uses the structure and language of painting to arouse feelings of revolution. It appears as though it has been twisted on itself, to the point where I had a hard time connecting the image as one in my head. However, I was most attracted to the side of the canvas that didn't have an image. The back was panels of solid colored material, red, blue, navy, gray, with the seams dangling thread. Visually I found this much more appealing, and even patriotic with its reference to symbolism, flag making etc.
In general, I enjoyed the artists using the structure of painting as a place that had a set of conventions and a history that could be manipulated and questioned, while still paying homage to those same conventions and history.
The show will be up until July 26th, and Julius Caesar holds openings on the first Sunday of every month from 4-7pm. Gallery hours are on Sundays from 1-4.
Lauren likes art, cooking, animals and humans.
Latest posts by laurenvallone (see all)