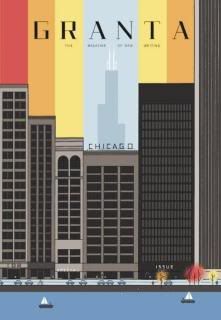 British publication Granta will be featuring the city of Chicago for its upcoming issue. Chicago based Chris Ware designed the very sweet cover. It sounds like a good issue to pick up if you are interested in what's going on in Chicago.
" In this video, Granta acting editor John Freeman introduces the issue, celebrating the city of Chicago, a cultural and artistic hub and home to some of the world's greatest writers and thinkers."
Introducing "Chicago" from Granta magazine on Vimeo.
Meg Onli is a visual artist and blogger born and raised in Los Angeles, California. Meg moved to Chicago, Illinois in 2005 where she received a Bachelor in Fine Arts from the School of the Art Institute of Chicago. She has been with the Chicago-based art and culture podcast/blog Bad at Sports since 2006 where she is currently the Associate Producer. She has an unfathomable apatite for documentary films, 60s & 70s performance art, and cute cats. Meg has exhibited work in Los Angeles, Chicago, and New York City. Currently, she is working on a project that documents her steps in recording Motwon's first girl group sensation, the Marvelettes, version of "Where did Our Love Go?"