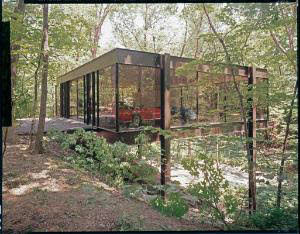 The suburban Chicago home (Highland Park) made famous in 1986 movie "Ferris Bueller's Day Off" is up for sale for $2.3 million.
At 5,300-square-feet the house was the fictional home of Ferris Bueller's friend, Cameron Frye. In the movie, Frye accidentally sends his father's Ferrari through one of the house's glass walls and into the woods outside.
The home is at 370 Beech Street, Highland Park.
Sudler Sotheby's International Realtor Meladee Hughes says being in the home is like living in the tree house. She says there's been a lot of interest from buyers already.
Hughes says there's a wall dedicated to the movie in the home's steel and glass pavilion overlooking a ravine. The wall includes behind-the-scenes photographs of Ruck and Matthew Broderick, who plays Bueller.
See a slideshow of photos and more information here
Christopher Hudgens is the Operations Manager for BaS and works in various other capacities for other organizations in the Chicago Art & Culture scene. Most recently as Business Operations Manager for the Bridge Art Fair and currently an advocate for all things art & technology.
Latest posts by Christopher (see all)