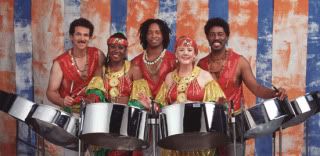 Friday's Links Roundup is now becoming Friday's Twitter Roundup. It just makes more sense. On this week's short roundup we have drunk people in yoga positions (ouch!), The Renaissance Society posts a video with director Susanne Ghez, and I reveal that I was in a steel drum band in high school. Have a great weekend everyone.
Drunk People Yoga Positions. Entertaining in a sad way.
Oxymoron of the day: custom Channel motorcycle.
Watching a demo of the Augmented Reality app on Plural Blog.
Did anyone check out MP3 II: Curtis Mann, John Opera, Stacia Yeapanis at the MoCP this weekend?
I was in a steel drum band in high school. This brings back memories. (via TWBE)
RT: @RenSoc New RenSoc video: Director Susanne Ghez interviews artist Judy Ledgerwood.
Yes! Newberry Book Fair starts tomorrow. Be sure to check it out before it ends this Sunday
RT @ChiGalleryNews Randolph St. Market takes place in the West Loop this weekend. Happy hunting!
Zaha Hadid's delayed Burnham Plan Centennial pavilion in Millennium Park might still open in early August.
Meg Onli is a visual artist and blogger born and raised in Los Angeles, California. Meg moved to Chicago, Illinois in 2005 where she received a Bachelor in Fine Arts from the School of the Art Institute of Chicago. She has been with the Chicago-based art and culture podcast/blog Bad at Sports since 2006 where she is currently the Associate Producer. She has an unfathomable apatite for documentary films, 60s & 70s performance art, and cute cats. Meg has exhibited work in Los Angeles, Chicago, and New York City. Currently, she is working on a project that documents her steps in recording Motwon's first girl group sensation, the Marvelettes, version of "Where did Our Love Go?"