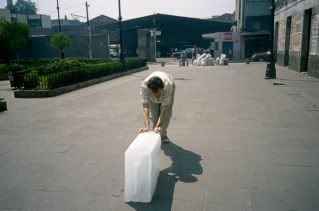 On this week's twitter roundup I checked out The Walker's show, "The Quick and the Dead", Vito Acconci modeled for J Crew, and it looks like blackface is in fashion again. If your looking for something to do tonight stop by the Co-Prosperity Sphere for the release party for Proximity's latest issue.
Proximity Issue 005 Release Party
Co-Prosperity Sphere, 3219 S Morgan
Friday, September 25, 9pm – 1am
For more info check out their website.
Meg Onli is a visual artist and blogger born and raised in Los Angeles, California. Meg moved to Chicago, Illinois in 2005 where she received a Bachelor in Fine Arts from the School of the Art Institute of Chicago. She has been with the Chicago-based art and culture podcast/blog Bad at Sports since 2006 where she is currently the Associate Producer. She has an unfathomable apatite for documentary films, 60s & 70s performance art, and cute cats. Meg has exhibited work in Los Angeles, Chicago, and New York City. Currently, she is working on a project that documents her steps in recording Motwon's first girl group sensation, the Marvelettes, version of "Where did Our Love Go?"