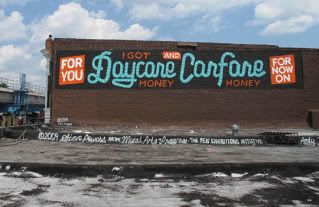 On this weeks roundup we look at some really bad art of Obama, Paul McCarthy speaks with the people over at BOMBSITE, and Art Observed checks in to see the love Steve Powers is spreading. Have a good weekend everyone.
Paul McCarthy interviewed by Benjamin Weissman on BOMBSITE.
Preservationists attempt to save Chicago's Gropius architecture threatened by Olympic planning.
Jerry Saltz's picks for Fall shows in NYC.
Tribune covers what Chicago galleries are doing to get by.
I know it doesn't say "Best New Websites of 2009" but Time's picks feel unbelievably obvious.
NoCoast will be hosting a silkscreen workshop this Saturday and Sunday.
Watching the trailer for The Mockumentary.
Bad Obama Art: RT @methomp pure internet magic. i was looking for something totally unrelated:
Chicago Printers Guild is currently offering a mystery pack of prints. via The Post Family
Art Observed discusses the "Love Letter Project" with Steve Powers.
Meg Onli is a visual artist and blogger born and raised in Los Angeles, California. Meg moved to Chicago, Illinois in 2005 where she received a Bachelor in Fine Arts from the School of the Art Institute of Chicago. She has been with the Chicago-based art and culture podcast/blog Bad at Sports since 2006 where she is currently the Associate Producer. She has an unfathomable apatite for documentary films, 60s & 70s performance art, and cute cats. Meg has exhibited work in Los Angeles, Chicago, and New York City. Currently, she is working on a project that documents her steps in recording Motwon's first girl group sensation, the Marvelettes, version of "Where did Our Love Go?"