What's the latest trend in trendy art openings events? Food orgies, preferably food generated by felled trees and lots and lots of dead animals dripping (oh sorry, I meant "drizzled") with honey. And cakes delivered by bare-breasted women (all gorgeous models, mind you). First, there's the biblically-inspired feast designed by event planner Jennifer Rubell for the Performa 09 benefit dinner (Rubell is the daughter of renowned collectors Donald and Mera Rubell).  Roberta Smith summarized the event for the New York Times here. Then, there's the Kreemart/American Patrons of Tate/Haunch of Venison New York Cake Party that took place on November 3rd (read about it here), which paired four artists (Marina Abramovic, Leandro Erlich, Mickalene Thomas and Rob Wynn) with top NYC pastry chefs to make art cakes. Some of those cakes were frosted silver and gold, leaving glittering smears across the mouths of those who consumed it. Bits of cake were served by and in some cases fed directly to guests by topless models.
I'm sure there were plenty of heady ideas motivating both of these performance orgies, most likely having to do with shining a light on greed, cultural over-consumption, and waste, along with attempts to parody the culturally current notion that we should eat only what we ourselves kill. Regardless, I remain in awe of how the art world's glitterati invariably find new ways to satirize their golden cake while merrily stuffing it into their faces too.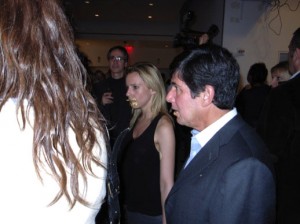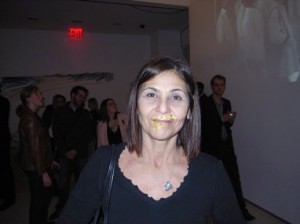 Claudine Isé has worked in the field of contemporary art as a writer and curator for the past decade, and currently serves as the Editor of the Art21 Blog. Claudine regularly writes for Artforum.com and Chicago magazine, and has also worked as an art critic for the Los Angeles Times. Before moving to Chicago in 2008, she worked at the Wexner Center in Columbus, OH as associate curator of exhibitions, and at the Hammer Museum in Los Angeles as assistant curator of contemporary art, where she curated a number of Hammer Projects. She has Ph.D. in Film, Literature and Culture from the University of Southern California.
Latest posts by Claudine Isé (see all)