On July 29, a fire destroyed one of the country's largest private collections of African and African-American art–more than 300 sculptures, paintings, photographs and works in other media by Kerry James Marshall, Nick Cave, Jacob Lawrence, Romaire Bearden, Kara Walker, Carrie Mae Weems, Yinka Shonibare and others. Prominent activist and art collector Peggy Cooper Cafritz was out of town when a fire consumed her Washington, D.C. home and burned it to the ground.
Over the weekend the New York Times ran a story on the fire that delves into the personal and cultural ramifications of this significant loss. As far as I could tell, the Times ran no pictures of the art or home that was destroyed, only "after" shots of the ruins. But when it comes to art and art collections, one needs to see what was destroyed in the first place in order to fully appreciate the significance of the loss. Oprah.com has an extensive slideshow of Ms. Cafritz's light-filled home, every corner bursting with one beautiful artwork after another (the slideshow is part of a feature on Cafritz that ran prior to the fire).
Courtesy of Oprah, below are two images of Ms. Cafritz's home: one showing a Soundsuit by Nick Cave (hanging above the stairwell) and another of Kerry James Marshall's sculpture Power to the People installed in the entry hall. A truly terrible loss.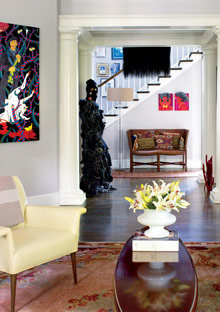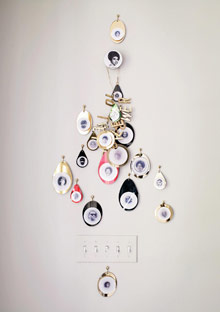 Claudine Isé has worked in the field of contemporary art as a writer and curator for the past decade, and currently serves as the Editor of the Art21 Blog. Claudine regularly writes for Artforum.com and Chicago magazine, and has also worked as an art critic for the Los Angeles Times. Before moving to Chicago in 2008, she worked at the Wexner Center in Columbus, OH as associate curator of exhibitions, and at the Hammer Museum in Los Angeles as assistant curator of contemporary art, where she curated a number of Hammer Projects. She has Ph.D. in Film, Literature and Culture from the University of Southern California.
Latest posts by Claudine Isé (see all)