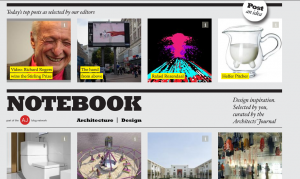 A few weeks ago I remarked upon the current popularity of the words 'curate' and 'curation' as a new form of marketing lingo, following a story in The New York Times on that subject. Today I ran across this very good bit of commentary within a post at things magazine on "The Death of the Object" as it applies to a type of emerging blog genre that's driven by particular cults of personal taste. The specific websites they're referring to relate largely to fashion, but the larger idea, I think, makes just as much sense when considered in terms of how objects of art and culture are consumed on the internet today. Read Things Magazine's full post here, an excerpt is below (bolded text is my own emphasis).
"…a recognisable genre of weblogs has emerged (see this question: Is there a name or term for the aesthetic these blogs contain?), the seemingly random streams of 'good work', quirky images, striking photography, cool objects, strange concepts, old scans, etc. etc. etc. We can drift though these – and we do – yet we shouldn't kid ourselves that we are flaneuring our way to anything but a highly selected cultural overview. This genre of presentation is both persuasive and pervasive, the digital equivalent of Wired's 'Fetish' pages (which have obviously a far more natural existence on screen than on paper). Take the AJ's new Notebook site, wherein 'inspiration' is 'curated', an explicit acknowledgement of the dominance of image-driven culture.

These visual essays, together with animated stings and very short films, have become the primary modes of communication; objects are strung together rather than taken in isolation. There is no space for contemplation, just clicking, scrolling and flicking. This leaves the solitary object somewhat adrift, only embodying meaning when it is juxtaposed or collated or slotted into a larger collection. Although a glance at any tumblr or curated weblog might suggest otherwise, the 'thing' is in danger of imminent extinction.
Claudine Isé has worked in the field of contemporary art as a writer and curator for the past decade, and currently serves as the Editor of the Art21 Blog. Claudine regularly writes for Artforum.com and Chicago magazine, and has also worked as an art critic for the Los Angeles Times. Before moving to Chicago in 2008, she worked at the Wexner Center in Columbus, OH as associate curator of exhibitions, and at the Hammer Museum in Los Angeles as assistant curator of contemporary art, where she curated a number of Hammer Projects. She has Ph.D. in Film, Literature and Culture from the University of Southern California.
Latest posts by Claudine Isé (see all)