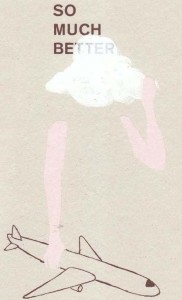 Bad at Sports' own Literary Correspondent Terri Griffith has published her first book "So Much Better" and is on sale now through Green Lantern Press & Amazon.com
"So Much Better" is a debut novel about a self-sabotaging Credit Union employee, a cold woman at odds with and alone in the world. In the absence of her lover, she seduces her lover s sister, wades through old storage units and wonders after her own absent family. Printed in an edition of 500 w/ silkscreen covers by Nick Butcher of Sonnenzimmer.
Terri Griffith's writing has appeared in Bloom, Suspect Thoughts, Bust and in the anthologies Without a Net: The Female Experience of Growing Up Working Class and Are We Feeling Better Yet? Women Speak about Health Care in America. Along with Nicholas Alexander Hayes, she is co-authoring a transgressive retelling of the Greek Myths. Terri is the literary correspondent for the popular contemporary art podcast Bad at Sports and she also co-hosts the online reading series The Parlor.
Christopher Hudgens is the Operations Manager for BaS and works in various other capacities for other organizations in the Chicago Art & Culture scene. Most recently as Business Operations Manager for the Bridge Art Fair and currently an advocate for all things art & technology.
Latest posts by Christopher (see all)