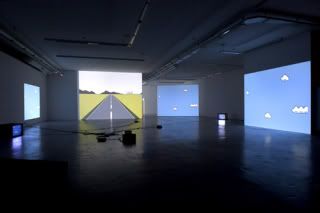 Thursday, March 19, 6:00 pm
Gene Siskel Film Center
164 North State Street
Chicago Il 60601
via Conversations at the Edge
Best known for his Nintendo game cartridge hacks, multi-media trickster Cory Arcangel uses new and vintage computers, sound, performance, and the web to recontextualize popular figures (Super Mario Brothers, Bruce Springsteen, Simon & Garfunkel) and aesthetic systems (the instructional video, adult contemporary music, the "artist talk") in subversively comedic ways. This evening, he'll provide an overview of his practice, possibly including his Super Mario movies, the epic and aptly titled performance piece "Bruce Springsteen Born to Run Glockenspiel Addendum," and an archetypal "experimental film," complete with digital scratches and Final Cut Pro countdown. Co-presented by SAIC's Parlor Room. 1998-2008, Cory Arcangel, USA, multiple formats, ca. 60 min.
Meg Onli is a visual artist and blogger born and raised in Los Angeles, California. Meg moved to Chicago, Illinois in 2005 where she received a Bachelor in Fine Arts from the School of the Art Institute of Chicago. She has been with the Chicago-based art and culture podcast/blog Bad at Sports since 2006 where she is currently the Associate Producer. She has an unfathomable apatite for documentary films, 60s & 70s performance art, and cute cats. Meg has exhibited work in Los Angeles, Chicago, and New York City. Currently, she is working on a project that documents her steps in recording Motwon's first girl group sensation, the Marvelettes, version of "Where did Our Love Go?"