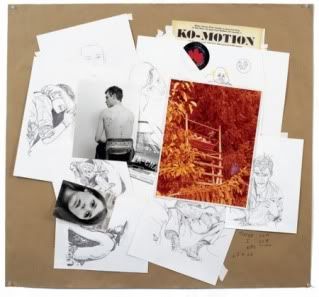 Yesterday, Collier Schorr had a book signing at Dashwood Books for her latest release "There I Was". In the fall of 2007 I had a chance to see "There I was" at 303 gallery. The show was a departure from Schorr's photographic work. Through drawings, photographs, source images, and letters Schorr retells the vivid story of Charlie -Astoria Chas' Synder. While accompanying her father on a interview in 1967 , Schorr met the 19 year old drag racer and his "Ko-Motion" Corvette. By the time the article was released Synder had already been killed while fighting in Vietnam. Based on both facts and fantasy Schorr retells the last days of – Astoria Chas'.
The Long Century has a small musing from Schorr about Synder and war films.
"I was talking to a friend about a scene in Full Metal Jacket and he said "that is my favourite war movie." Later, I thought, what does that mean? What does a favourite war movie satisfy? What makes it so desirable? All narrative cinema pivots on the transformation of a protagonist and so most war movies satisfy this requirement in spades. From An Officer and a Gentleman to Platoon, the young soldier is transformed into a man, either ruined by brutality or recused by structure, there is a simple pleasure in watching someone (other than oneself) abused into a potential killing machine.
…When I starting making drawing's based on a young friend of my father's who was killed after just on month of serving in Vietnam, I re-engaged with all those Vietnam movies I thought I loved and I no longer could love them. The fact that they were a fetish for me, and an ideal about masculinity that I couldn't afford to indulge."
Read the full article at This Long Century.
For more information and to pre-order a signed copy please visit Dashwood Books
Meg Onli is a visual artist and blogger born and raised in Los Angeles, California. Meg moved to Chicago, Illinois in 2005 where she received a Bachelor in Fine Arts from the School of the Art Institute of Chicago. She has been with the Chicago-based art and culture podcast/blog Bad at Sports since 2006 where she is currently the Associate Producer. She has an unfathomable apatite for documentary films, 60s & 70s performance art, and cute cats. Meg has exhibited work in Los Angeles, Chicago, and New York City. Currently, she is working on a project that documents her steps in recording Motwon's first girl group sensation, the Marvelettes, version of "Where did Our Love Go?"