When I first moved to Chicago, shortly after the initial shock and depression wore off (KIDDING…just kidding…mostly), I set about exploring what Chicago's gallery scene had to offer. Because so much exists off the proverbial beaten track, and I moved here with nary an art friend to show me around, there was a short time during which I thought River North was it when it came to art galleries in Chicago. Now, to be sure, there is much to love in River North, but we all know there is far more to Chicago art than one neighborhood's offerings.
But there's never been a book or newspaper or website that clearly maps it all out for you. Until now. Chicago Art Map is the brainchild of local artist/writers/fellow B@S team members Kathryn Born and Stephanie Burke, who've been slaving away under cover of night for months and months getting this extraordinary tool ready for public beta launch. Not only is the interactive Art Map literally a map that enables you to see what's happening art-wise in Chicago by searching according to venue type (i.e. alternative or apartment gallery vs. commercial spaces, along with museums and art centers), neighborhood, and even genre (like 20th Century masters, outsider art, painting or furniture/decorative), it's a magazine too.
A magazine that already has numerous feature articles online and a boatload of reviews, many of which first appeared on Art Talk Chicago. It's an exciting new development on a number of levels, and as with all new launches they could use your help with working out the bugs. Go on over, click around, use the map to help plan your art weekend, and send Kathryn and Stephanie your kudos and constructive feedback; I know they'll appreciate it. Have a great weekend everybody.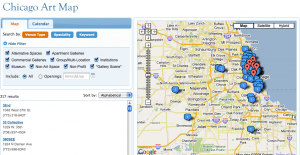 Claudine Isé has worked in the field of contemporary art as a writer and curator for the past decade, and currently serves as the Editor of the Art21 Blog. Claudine regularly writes for Artforum.com and Chicago magazine, and has also worked as an art critic for the Los Angeles Times. Before moving to Chicago in 2008, she worked at the Wexner Center in Columbus, OH as associate curator of exhibitions, and at the Hammer Museum in Los Angeles as assistant curator of contemporary art, where she curated a number of Hammer Projects. She has Ph.D. in Film, Literature and Culture from the University of Southern California.
Latest posts by Claudine Isé (see all)