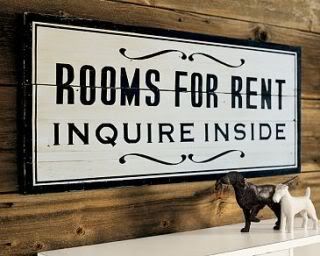 via Christopher Albert:
Artists are invited to re-envision the FOR RENT sign as one part of a series of installations and collaborations created by Christopher Albert as part of the annual 10x10x10 exhibit in Ellenville, NY. Every year, 10x10x10 invites 10 artists from 10 communities to create installations in 10 empty storefronts in downtown Ellenville, NY. Submitted signs will be incorporated in an installation for 3-4 weeks in beginning on July 11, 2009, the opening of the exhibit. The signs will also be part of a longer term online project. Artists will be fully credited online and at the exhibition site.
Details:
There is no fee for submitting work.
Anyone from anywhere can submit, and multiple submissions are welcome.
Two sizes of signs will be accepted: 12″x8″ and 19″x15″.
Signs should be created using a sturdy but flexible material. ie:
heavy card stock, poster board, watercolor, etc. (or even plastic or
vinyl if you choose to rework an actual For Rent sign.)
However you choose to treat the sign and which medium you choose to
use is up to you. The only requirement is that it conveys the spirit
of "FOR RENT" and that it should have an area in which someone could
write a phone # (no phone #'s will be written on the signs, but they
should have the space for it.)
Be aware that for installation purposes, signs will likely be attached
to a structure via pins through the corners of the signs.
Deadline for receipt of signs: Monday, June 22.
Drop off locations for signs will be set up in Beacon, Poughkeepsie
and Ellenville, NY. Signs can also be mailed to: Christopher Albert
1172 North Ave Beacon, NY 12508.
Please put your name, telephone, email and mailing addresses on the
back of the sign.
The signs will be returned after the conclusion of the exhibit.
If you have any questions or need more information, contact:
info@christopheralbert.com. Additional information will be
forthcoming at www.christopheralbert.com
Meg Onli is a visual artist and blogger born and raised in Los Angeles, California. Meg moved to Chicago, Illinois in 2005 where she received a Bachelor in Fine Arts from the School of the Art Institute of Chicago. She has been with the Chicago-based art and culture podcast/blog Bad at Sports since 2006 where she is currently the Associate Producer. She has an unfathomable apatite for documentary films, 60s & 70s performance art, and cute cats. Meg has exhibited work in Los Angeles, Chicago, and New York City. Currently, she is working on a project that documents her steps in recording Motwon's first girl group sensation, the Marvelettes, version of "Where did Our Love Go?"