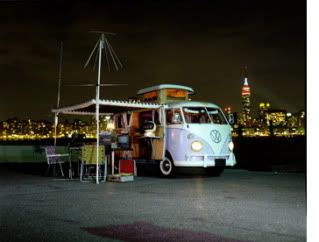 Broadcast Yourself
6:30 p.m. Wednesday, April 1, 2009
Lecture Hall 213,
next to Pratt Manhattan Gallery
144 West 14th Street, 2nd Floor
"Pratt Manhattan Gallery will present 'Broadcast Yourself,' a free public symposium in conjunction with the gallery's 'Broadcast' exhibition…Speakers will include NPR 'On The Media' host Brooke Gladstone, 'Broadcast' curator Irene Hofmann, and 'Broadcast' participating artists Gregory Green, Angel Nevarez and Valarie Tevere of neuroTransmitter, and Siebren Versteeg.
'Broadcast Yourself' will address the issues of power and control extended by traditional media outlets in contrast with the do-it-yourself attitude pervasive in the tech-savvy younger generation. Symposium panelists will also speak to the impact that radio and television can have in shaping the events of our time; how artists can directly engage, challenge, or subvert the structure and authority of broadcast media; and how our culture is shaped by the actions of individuals and artists."
For more information please visit Pratt's site.
Image above:
Gregory Green, M.I.T.A.R.B.U. (Mobile internet, television, and radio broadcast unit), Mixed media with 35-watt pirate FM broadcast system, 100-watt pirate television broadcast system, and internet broadcast system, 2000.
Meg Onli is a visual artist and blogger born and raised in Los Angeles, California. Meg moved to Chicago, Illinois in 2005 where she received a Bachelor in Fine Arts from the School of the Art Institute of Chicago. She has been with the Chicago-based art and culture podcast/blog Bad at Sports since 2006 where she is currently the Associate Producer. She has an unfathomable apatite for documentary films, 60s & 70s performance art, and cute cats. Meg has exhibited work in Los Angeles, Chicago, and New York City. Currently, she is working on a project that documents her steps in recording Motwon's first girl group sensation, the Marvelettes, version of "Where did Our Love Go?"