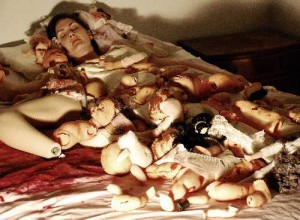 Ah, bloody ladies and their fucked-up bloody baby dolls. I'm still counting down the days to Halloween, and if I can find a babysitter of my own, I am so going to see this woman (actually, Stacy Stoltz as Elizabeth) up close and in person when The Hypocrites perform their version of Mary Shelley's Frankenstein at the MCA Chicago from October 21 – November 1. It will be enacted "in promenade," which means that performers intermingle with audience member on the same stage. Blurbs the MCA:
Just in time for Halloween, acclaimed Artistic Director Sean Graney and The Hypocrites take on Mary Shelley's classic novel for an adventurous retelling of Frankenstein. Graney's world-premiere production is performed in promenade, which places the audience onstage amidst the actors, and combines his inventive and poetic adaptation with the famous 1931 film starring Boris Karloff.

Inspired by the vast scope of Shelley's novel and the ideas of inventors like Benjamin Franklin, Thomas Edison, and J. Robert Oppenheimer, Graney draws from a variety of literary sources for his adaptation, including Macbeth, Prometheus Bound, Doctor Faustus by Christopher Marlowe, and 'Tis Pity She's a Whore by John Ford. Graney's adaptation combines several historical versions of the gothic tale to craft a contemporary literary monster that captures the pure horror and chilling philosophy of creation carried out in the name of human advancement.
It's like a high art version of Tony & Tina! But seriously, it's always fun when audiences get a chance to wander around onstage while the performers do their thing–although I always wind up feeling weirdly embarrassed for the actors when I stand too close to them. At any rate, you can watch a video of Hypocrities founder and Frankenstein director discussing his ideas about how theater relates to Frankenstein below; tickets are $20-25, for MCA members they're $16-20, and the student rate is $10.
Latest posts by Claudine Isé
(see all)