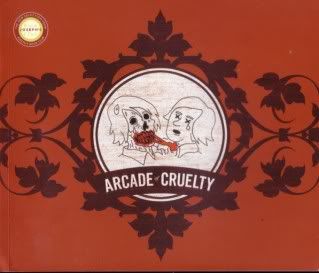 Up for grabs this week is a copy of Joseph Larkin's "Arcade of Cruelty. You know the drill email me (megonli@badatsports.com) and lucky number 11 will get the book.
via William Jones for Graphic Novel Reporter
"Crass-for-the-sake-of-crass comics usually go one way or the other; there isn't much middle ground. Either the author has a special touch that somehow makes the work funny despite the reader's better judgment or he doesn't, leaving a book filled with racist, homophobic, and/or simply offensive material, not only to the subject matter but good taste.
Joseph Patrick Larkin knows this, if the comic on page 237 of his Arcade of Cruelty is an indication. The comic is titled "Johnny Ryan's Response to 9/11," and it takes the aforementioned cartoonist of Angry Youth Comix to task for missing the point, this time without the apologies Larkin often offers with his style-imitation strips. It features a disgusting character pointlessly spewing the dirtiest possible language and really has nothing to do with 9/11, or anything else for that matter.
That's not to say Larkin is an upstanding member of the comics world himself. The strip in question appears in a section devoted to 9/11 comics, and not in the artsy Art Spiegelman sense, but in the making-jokes-about-it-and-people's-opinions-of-it sort of way. The rest of the book is littered with his deranged sexual ponderings (including a slew of jokes about rape), defacement of childhood yearbooks, and plenty of self-loathing. But Larkin seems to have the touch, using a tongue-in-cheek approach to give many of his strips a heavy helping of irony, with many of them truly at the expense of their author."
Meg Onli is a visual artist and blogger born and raised in Los Angeles, California. Meg moved to Chicago, Illinois in 2005 where she received a Bachelor in Fine Arts from the School of the Art Institute of Chicago. She has been with the Chicago-based art and culture podcast/blog Bad at Sports since 2006 where she is currently the Associate Producer. She has an unfathomable apatite for documentary films, 60s & 70s performance art, and cute cats. Meg has exhibited work in Los Angeles, Chicago, and New York City. Currently, she is working on a project that documents her steps in recording Motwon's first girl group sensation, the Marvelettes, version of "Where did Our Love Go?"