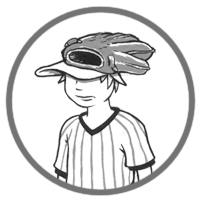 Welcome to the new website for Bad at Sports. With this major re-design we aim to strip away some of the site's more cumbersome features in order to focus on the two things we do: the podcast and the blog. Now, you can access blog content from the website's home page along with direct links to our most recent stories and related posts from our archives.
The weekly podcast's content remains front and center (well, now it's a little more left-of-center), with the past few weeks' worth of podcasts available through direct links on the home page as well. In the coming weeks, we'll also be adding some new Chicago-based bloggers to our mix of weekly contributors–stay tuned for those announcements soon.
In November, we'll also be initiating a new weekly(ish) series titled Off-Topic, in which we invite artists, curators, writers, and other cultural workers to discuss a subject not related to the practice of making art. It's a chance for people to geek out on aspects of culture that they're passionate about outside the realm of fine art proper – topics they don't have a forum to write about elsewhere – and based on the essays we've already got lined up, we're pretty confident this new series is going to kick ass.
With the new site, we want to try out a few different ways of engaging community response to our blog content in an effort to make Bad at Sports feel like a welcoming place for everyone who wants to hang out here.  Instead of a comments feature, we'll have a bi-weekly "Letters to the Editors" post on Saturdays. Please send your thoughts, threats, and hate mail to mail@badatsports.com with the subject Letters to the Editor. We're also going to be making a bigger behind-the-scenes effort to engage our listeners and readers more directly by soliciting your contributions to the Off-Topic series as well as a few other new content angles we've got up our sleeves but aren't quite ready to roll out yet.
We hope you're as excited about our redesign as we are. Take a look around, see what you think. And as always, thanks for hanging with us.
Christopher Hudgens is the Operations Manager for BaS and works in various other capacities for other organizations in the Chicago Art & Culture scene. Most recently as Business Operations Manager for the Bridge Art Fair and currently an advocate for all things art & technology.
Latest posts by Christopher (see all)