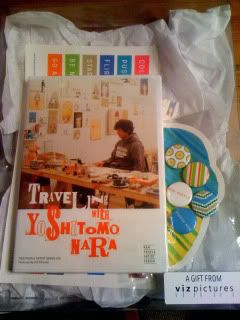 Last week I reviewed the second installment of the New People Artist Series, Yayoi Kasuma: I Love Me. The people over at NPAS were nice enough to hook us up with three gift packs that include stickers, buttons, and a copy of their first release to the series, Traveling with Yoshitomo Nara.
Directed by KojiSakabe, Traveling with Yoshitomo Nara follows Nara as he travels while opening his largest installation to date, (possibly ever) AtoZ. Much like Yayoi Kasma, I was very familiar with Nara's practice but not with the artist himself. As we follow him to fan club meetings where woman shower him with affection (many times leaving the artist speechless) to his studio where he creates his distinctive portraits of young girls, we get an insight in the world that Nara both lives and creates in.
If you would like to win one of the three copies please email me at Megonli@gmail.com with the header New People Artist Series. The first three contestants will receive a gift pack.
To purchase a copy of Traveling with Yoshitomo Nara or for more info on New People Artist Series please visit their site.
Meg Onli is a visual artist and blogger born and raised in Los Angeles, California. Meg moved to Chicago, Illinois in 2005 where she received a Bachelor in Fine Arts from the School of the Art Institute of Chicago. She has been with the Chicago-based art and culture podcast/blog Bad at Sports since 2006 where she is currently the Associate Producer. She has an unfathomable apatite for documentary films, 60s & 70s performance art, and cute cats. Meg has exhibited work in Los Angeles, Chicago, and New York City. Currently, she is working on a project that documents her steps in recording Motwon's first girl group sensation, the Marvelettes, version of "Where did Our Love Go?"