A few months ago on episode 192 of the Podcast, artist and Yale professor Rochelle Feinstein discussed at length a long-term project of hers that at the time had never been shown. Created during the period 2002-2005, this body of work examines (among other things) Michael Jackson as a cultural signifier of failure and redemption.
Feinstein's project did find a home. It's been on view in New York at Art Production Fund's APF Lab space since June 2nd (Jackson died on June 25th) and is titled "I Made a Terrible Mistake," which comes from the statement Jackson made the day after he infamously dangled his baby Blanket out a hotel window as fans cheered below.
The exhibition explores Michael Jackson's mistakes as "allegories of contemporary life, in both public and private orbits." From the APF's website:
When a mistake is acknowledged, an imperceptible process of transformation and redemption begin. Jackson, and this phrase, is one conceptual muse for this project. The other, Barry White, so emphatically unapologetic and generous in his promise of sensual redemption, died in the summer of 2003, while Feinstein was in the Art Production Fund Residency at Giverny. The conceptual collision of these two icons, sited at Monet's Garden, led Feinstein to draw upon this uber-synthetic Eden for the creation of "I Made a Terrible Mistake."
Feinstein's show is up through July 23rd. Be sure to listen to Duncan's in-depth discussion with Feinstein about Michael Jackson, celebrity, mirror balls, failure and redemption and other subjects on the podcast.
Feinstein's work has also been exhibited recently in Oak Park, Illinois at The Suburban; you can read a bit more about Feinstein's APF lab installation at Art in America here.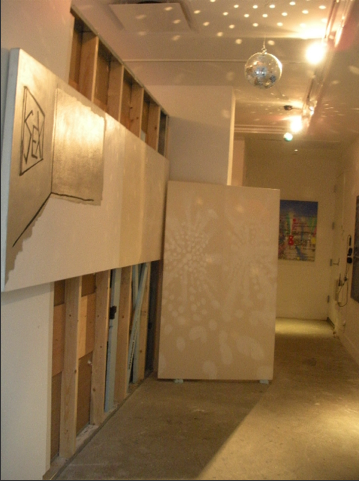 Claudine Isé has worked in the field of contemporary art as a writer and curator for the past decade, and currently serves as the Editor of the Art21 Blog. Claudine regularly writes for Artforum.com and Chicago magazine, and has also worked as an art critic for the Los Angeles Times. Before moving to Chicago in 2008, she worked at the Wexner Center in Columbus, OH as associate curator of exhibitions, and at the Hammer Museum in Los Angeles as assistant curator of contemporary art, where she curated a number of Hammer Projects. She has Ph.D. in Film, Literature and Culture from the University of Southern California.
Latest posts by Claudine Isé (see all)