ArtBabble, the Indianapolis Museum of Art's new online site for videos about art and artists, goes public tomorrow (Tuesday, April 7th). The Beta site has been up for a few months by invitation only (which were not hard to get), and so far it looks pretty great.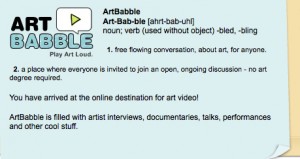 The Indianapolis Museum asked institutions including the New York Public Library, the Los Angeles County Museum of Art and the San Francisco Museum of Modern Art to contribute content that includes interviews with artists, profiles of museum professionals, and videos of exhibition works in situ. The strength of ArtBabble lies in its collaborations with other institutions–the more shared content, the greater its use-potential. It's a genius example of how centralized online content can benefit multiple institutions. It'll be interesting to see whether other museums clamor to join in, or choose instead to use ArtBabble as a model for their own online presences.
Claudine Isé has worked in the field of contemporary art as a writer and curator for the past decade, and currently serves as the Editor of the Art21 Blog. Claudine regularly writes for Artforum.com and Chicago magazine, and has also worked as an art critic for the Los Angeles Times. Before moving to Chicago in 2008, she worked at the Wexner Center in Columbus, OH as associate curator of exhibitions, and at the Hammer Museum in Los Angeles as assistant curator of contemporary art, where she curated a number of Hammer Projects. She has Ph.D. in Film, Literature and Culture from the University of Southern California.
Latest posts by Claudine Isé (see all)