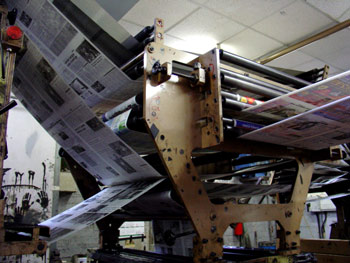 For those who don't subscribe to the e-flux announcements, or have stopped paying attention to them, there was an intriguing round table discussion going down over the weekend at their New York City space on the Lower East Side. With the launch of issue #4 of e-flux journal, they set out to ask:
How do art journals reflect what is currently available or possible in terms of content and distribution?
What forms of practice or engagement do they propose?
And how do they produce and reflect readerships?
And, at the end of the day, why produce or publish (an art journal)?
In the interest of disclosure, I must mention that I have been working with e-flux on their e-flux video rental project, but hopefully that doesn't undermine my saying that their approach towards producing a journal is an all around forward-thinking one.  As an online, freely available, print-on-demand effort, the issue of physical production is not negated but rather deferred.  The publication's production not only lies in wait for the individual, but also the potential producer/distributor.  From what I understood, e-flux seems to be daring someone to actually take up the task of producing the thing, while they focus on what is surely more rewarding.
As far as the participants in Saturday's round table, AA Bronson brought a lovely smattering of rare and out-of-print journals for show and tell, dot dot dot's Stuart Bailey dropped the Deleuze references ("P" is for professor), Silvia Kolbowski valiantly stuck up for October, and Gareth James took a ribbing for the yet-unpublished Scorched Earth. Other participants were Sara G. Rafferty from North Drive Press, Sina Najafi from Cabinet, and of course the three editors of e-flux journal, Brian Kuan Wood, Julieta Aranda, and Anton Vidokle. This was the dynamic that led to the most interesting line of questioning regarding the pedagogical role of a journal, the construction of an audience (otherwise just a phantasm), and the need to publish a journal at all. Look for the recording at e-flux.com, I know there was one.

Tim Ridlen is an artist and writer who has recently relocated to New York City from Chicago.He is the Senior Editor of Boot Print, a publication out of St. Louis, MO, and has recently written reviews for New City in Chicago.He is currently a New York City correspondent for Bad at Sports.More information is available at www.timridlen.info.
Latest posts by Tim Ridlen (see all)