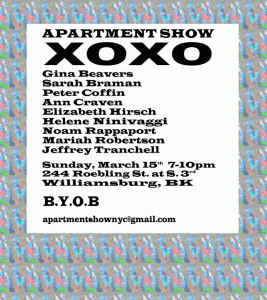 This past weekend I went to an "apartment show" here in New York. I was expecting the younger crowd, and of course, cheap beer instead of wine, a slightly later and over exuberant crowd, but I've got to pull out the Chicago street cred when I say that New York does not know how to run an apartment gallery like the Second City. Chicago has a long standing reputation of succesful alternatives to commercial gallery spaces, but they are in no way a sideshow to the main event.
What I saw here in New York is clearly respectable in the Tom Marioni sense, but I've got to stand my ground. Some things are better left to the midwest.
Tim Ridlen is an artist and writer who has recently relocated to New York City from Chicago.He is the Senior Editor of Boot Print, a publication out of St. Louis, MO, and has recently written reviews for New City in Chicago.He is currently a New York City correspondent for Bad at Sports.More information is available at www.timridlen.info.
Latest posts by Tim Ridlen (see all)