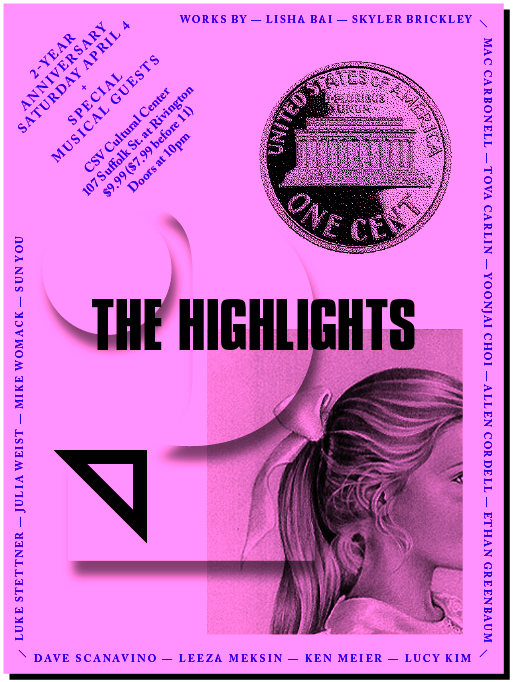 Tonight I'll be giving my 8 dollars to a wonderful web publication and receive in return a burnished penny (before 11pm) and a full night of excitement.  The Highlights is an online arts journal started in 2007 consisting of web-based projects and essays by artists. My current favorite is the Blind Carbon Copy interview between Steve Cairns and Isla Leaver-Yap.  No surprise these folks were included in the recently closed exhibition IRL (In Real Life) at Capricious Space in Brooklyn.  From the email invite:
The Highlights is having its two-year anniversary event, happening Saturday, April 4 at CSV Cultural Center (107 Suffolk at Rivington). Please join us in celebrating two glorious years of salacious commentary on the world-wide web with drinks, DJs, live music, and installations. Featuring artwork by Lisha Bai, Skyler Brickley, Mac Carbonell, Tova Carlin, Yoonjai Choi, Allen Cordell, Ethan Greenbaum, Lucy Kim, Ken Meier, Leeza Meksin, Dave Scanavino, Luke Stettner, Julia Weist, Mike Womack, and Sun You, plus a very special musical guest at midnight.
Tim Ridlen is an artist and writer who has recently relocated to New York City from Chicago.He is the Senior Editor of Boot Print, a publication out of St. Louis, MO, and has recently written reviews for New City in Chicago.He is currently a New York City correspondent for Bad at Sports.More information is available at www.timridlen.info.
Latest posts by Tim Ridlen (see all)