Hope everyone is having a great Halloween and in the spirit of dressing up as things you are not here is the latest movie trailer by Spike Jonze "Where the Dirty Hipsters Are" the sequel to the smash hit "Where the Wild Things Are". Have fun!
---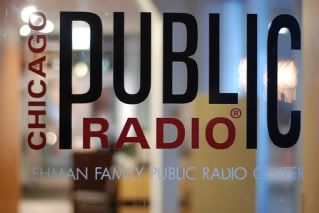 Can't get enough Duncan? Well, if that is the case, check out Duncan and Lori Waxman on Chicago Public Radio's Eight Forty-Eight.
"That crisp fall air wafting our way can only mean one thing, and this is the season to discover what's happening in Chicago art. So we've invited a couple of critics who have their fingers on the pulse of both the established and underground art scenes. Duncan MacKenzie is Executive Producer and co-host of the Bad at Sports podcast and a Lecturer in the Art and Design Department at Columbia College. Lori Waxman writes about the visual arts as a freelance critic for the Chicago Tribune. She's also an Art History Instructor at the School of the Art Institute of Chicago."
Check it out on Eight Forty-Eight's site.
---
Only 1 more day before the switch and at this point we all are done working really. It's almost Halloween (spelled it right Anna Maria Cerniglia thanks : ) and lets get real many of us are already out downing our second Pabst in anticipation for Saturday. So have a great weekend, see everyone Sunday with a fresh new show among other things. Here is a great music video of David Byrne & BPA's "Toe Jam" directed by Keith Schofield that is definitely not safe for work [NSFW] but hopefully will get you amped up for a great weekend.
Have fun!
---
This week you are getting a Top 3. Why? Well, do you want the truth or a lie? Too bad, this is what you get: these are the shows I think are absolutely worth going to this weekend. All three at new (in one way or another) spaces, and all three (well ok, the first two, I don't know anything about what is actually showing in the parking lot) feature awesome work. This is my chosen route, perhaps I'll see you out there. If you see two people dressed like bats, I'm one of 'em.
1) Means Without End at The Chicago Cultural Center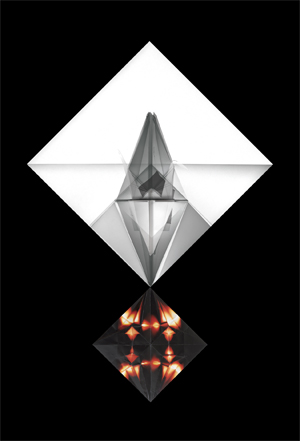 This is where I'm going tonight. Means Without End is an ongoing project by local photographer Shannon Benine. I'm pretty bad at describing work, so here's a quote from the CPC website, "Means Without End, 2009 consists of hundreds of 10″ x 10″ unfolded photograms of peace cranes tiled together to form a large installation. The number of color analog photograms represents the number of American deaths in the wars in Iraq and Afghanistan since the beginning of Operation Iraqi Freedom on March 19, 2003." I've seen these things in real life, they're friggin' awesome. The opening reception is tonight, Friday, from 7-9pm.
The Chicago Photography Center is located at 3301 N. Lincoln Ave.
2. Stone on Stone at ebersmoore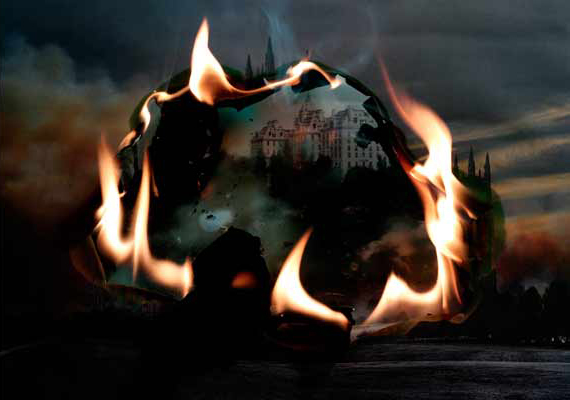 Formerly ebersb9, ebersmoore is featuring the work of Rob Carter for their first exhibition (their first exhibition was actually the second half on and exhibition that opened at the old location, so I'm calling this their first). I went to the new space last week, it's friggin' beautiful, and I'm into this work. If you check out their website, be sure to wait for the video to load, then watch it. Opening reception is tonight, Friday, from 6-9pm.
ebersmoore is located at 213 N Morgan St., #3C
3. Helter Sculpture at Parking Space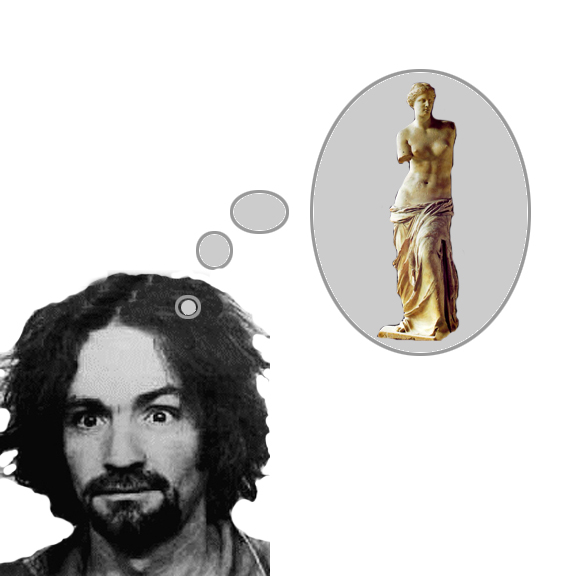 Ok, so this is totally not Parking Space's image. I made it because I went to their site and all they had was a show card with text, and this image instantly popped into my head. Regardless, this is another new space (not sure if it's even going to have a second show, seeing as it's operating in a abandoned parking structure, or so they say), and I have no friggin' idea what the work is going to look like. Take a chance, I bet it will at least be weird. Helter Sculpture is the curatorial project of Andrew Greene, E.J. Hill, and Matthew Schaffer, and is hosting a reception Saturday from 4-7pm.
Parking Space is located at 1448 N Leavitt St.
---
Guest post by Jen Gillespie
I am headed out of town for the Halloween weekend, a trip you will undoubtedly hear about next week. I am headed to Minneapolis to see Dan Graham speak at the Walker Art Center. Though I am extremely excited about this mini-break holiday weekend I am experiencing some pangs of regret, or perhaps just longing for the things I will be missing out on in Chicago. There are, as always far more things going on this weekend than any one person could hope to do, see, or experience. Though Halloween is often a time for mischief, costumes, and toying with fear, my suggestions are all to do with participating, since Halloween is also a time to get out and be part of the community.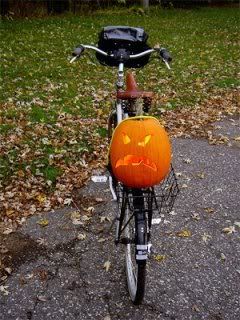 Chicago Critical Mass If you have never been part of their monthly ride its likely you've at least seen them, the hundreds of cyclists clogging the streets that have come together to ride into the night… hard to miss. The last Friday of every month bicyclists meet at daily plaza and ride throughout Chicago. Critical Mass happens all over the world and Chicago's turnout, especially for the ride this weekend, is definitely one to be a part of. The Mass always has a tinge of a political presence that reminds the public to be aware of cyclists by presenting an army of bicyclists coming together in their shared passion and support for biking in whatever role it takes in individual lives and greater civic culture. This ride, the Halloween ride, each year though it is festive with the spirit of Halloween throughout the crowd, it is also a memorial to those that have been injured and killed in bicycle related accidents. Everyone is welcome, costumes are encouraged, and the only thing you need is your bike.
5:30pm Friday, October 30
Chicago Critical Mass bike rides start from Daley Plaza, Dearborn & Washington at 5:30 pm on the last Friday of each month, regardless of season or weather. They are free and fun.
For more info:
http://chicagocriticalmass.org/about/newbies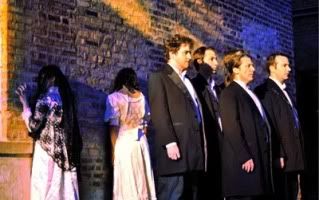 Neo-Futurarium – An Andersonville safe-haven for a unique experimental theater project that has been around Chicago for nearly 20 years. Built on such platforms as "just when you thought we couldn't neuter anymore dogma" and "theater that signs your yearbook with a puffy silver pen and promises never to seduce your brother again."
Neo-Futurists – A local theater collective best known for their production of Too Much Light Makes The Baby Go Blind: 30 Plays in 60 Minutes. This fall they present their Halloween performance:
"Fear"
Last shows- Friday October 30th and Saturday October 31st 7:30 pm
Conceived and curated by Noelle Krimm. The Neo-Futurists call this performance art tour "a thinking man's haunted house."  Comprised of vignettes including, but not limited to, one with a creepy serial killer about fetishes and violent impulses, to do with Edgar Allen Poe and all things terrifying. As with all Neo-Futurist performances the 'now' is not evaded or ignored, they don't go for the 'suspension of disbelief' gimmick. The Neo-Futurists' 'Fear' should not be missed. At the Neo-Futurarium, 5153 N. Ashland Ave. $15; T: 773-275-5255
For more information about this show or others by the Neo-Futurists: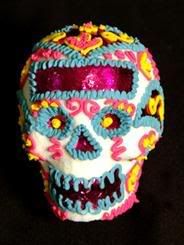 National Museum of Mexican Art
Day of the Dead is this Monday November 2nd; every year this museum puts together a solid exhibition with a cultural education bent that is lovely.  I've been several times over the years, if you haven't been, you should visit this year.
Camino a casa: Day of the Dead
Exhibition runs through December 13, 2009
Museum Hours 10 AM – 5 PM, Tuesday – Sunday
The National Museum of Mexican Art's 23rd annual Día de Muertos exhibition, the largest annual Day of the Dead exhibition in the Nation, featuring more than 20 artists from Mexico and the U.S., a special ofrenda (offering, usually made on or of an altar) created for Arturo Velasquez Sr. (1915-2009) and an ofrenda created by the acclaimed author Sandra Cisneros as a tribute to her parents. The National Museum of Mexican Art is the largest Latino cultural organization in the country and the only Latino museum accredited by the American Association of Museums. The Museum is located at 1852 West 19th Street, Chicago, IL 60608 in the Pilsen neighborhood, adjacent to Little Village. Closed Mondays. Admission is FREE for exhibitions. Performing Art events are subject to ticketing. Donations are graciously accepted. Contact Phone 312.738.1503 Museum Hours 10 AM – 5 PM, Tuesday – Sunday
For information on this exhibit:
http://www.nationalmuseumofmexicanart.org/dod09.html
I hope you have the very best Halloween, and if you can, try to support a local arts organization or participate in an event in your community in the process!
---