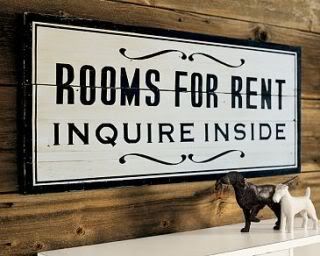 via Christopher Albert:
Artists are invited to re-envision the FOR RENT sign as one part of a series of installations and collaborations created by Christopher Albert as part of the annual 10x10x10 exhibit in Ellenville, NY. Every year, 10x10x10 invites 10 artists from 10 communities to create installations in 10 empty storefronts in downtown Ellenville, NY. Submitted signs will be incorporated in an installation for 3-4 weeks in beginning on July 11, 2009, the opening of the exhibit. The signs will also be part of a longer term online project. Artists will be fully credited online and at the exhibition site.
Details:
There is no fee for submitting work.
Anyone from anywhere can submit, and multiple submissions are welcome.
Two sizes of signs will be accepted: 12″x8″ and 19″x15″.
Signs should be created using a sturdy but flexible material. ie:
heavy card stock, poster board, watercolor, etc. (or even plastic or
vinyl if you choose to rework an actual For Rent sign.)
However you choose to treat the sign and which medium you choose to
use is up to you. The only requirement is that it conveys the spirit
of "FOR RENT" and that it should have an area in which someone could
write a phone # (no phone #'s will be written on the signs, but they
should have the space for it.)
Be aware that for installation purposes, signs will likely be attached
to a structure via pins through the corners of the signs.
Deadline for receipt of signs: Monday, June 22.
Drop off locations for signs will be set up in Beacon, Poughkeepsie
and Ellenville, NY. Signs can also be mailed to: Christopher Albert
1172 North Ave Beacon, NY 12508.
Please put your name, telephone, email and mailing addresses on the
back of the sign.
The signs will be returned after the conclusion of the exhibit.
If you have any questions or need more information, contact:
info@christopheralbert.com. Additional information will be
forthcoming at www.christopheralbert.com
---
---
I have always loved tiny toy people in their miniature plastic worlds. I was addicted to such stuff as a kid, and can't seem to stop myself from buying it for my own offspring, but this–this is beyond mere child's play. This transcends play into something almost Holy.
Just take a look at the moving Lego Pirate theater this guy in Athens, Greece, has made with Lego Mindstorms NXT and Lego Duplo pirate figures. Astounding. Then go to his site and get further blown away by his many "NXTfied"creations, including a Bionicle Robot Head, a revolving Christmas Tree, a Holo3Cycle, and so much more. (via BoingBoing via GeekDad).
---
The Wall Street Journal reports on the new works of art the Obamas are adding to the White House walls, their political implications, and the potential market effects for the artists they've selected (particular the lesser-known ones). From the article:
The Obamas are sending ripples through the art world as they put the call out to museums, galleries and private collectors that they'd like to borrow modern art by African-American, Asian, Hispanic and female artists for the White House. In a sharp departure from the 19th-century still lifes, pastorals and portraits that dominate the White House's public rooms, they are choosing bold, abstract art works.
The Obamas have great taste, no? A few examples…(the Ruscha is my favorite pick…so great!).
---
Audio clip: Adobe Flash Player (version 9 or above) is required to play this audio clip. Download the latest version here. You also need to have JavaScript enabled in your browser.

download


This week: Duncan and guest host Randall Szott talk to the fine folks from InCubate. After that interesting interview we flush the whole effing thing down the toilet by reviewing Harry Potter the Exhibition, where porno and Matthew Barney are discussed.
About InCUBATE (from their website):
In ways that have only become possible in the past few years, artist collectives and experimental institutions have begun to actively re-imagine alternate art worlds and alternative forms of curatorial practice in an attempt to disengage from the more traditional strategies governing today's art market.
InCUBATE is a research institute dedicated to challenging current infrastructures, specifically how they affect artistic production. As art historians and arts administrators, our goal is to explore the possibility of developing financial models that could be relevant to contemporary art institutions, as well as collective or individual artist projects working outside an institution. Particularly, we are exploring financial models which are less constrained by external controls and market concerns and which are more effective, more realistic, and more relevant to both art and the everyday. Our goal is to continue to conceptualize new possible situations, document these innovations, and make this information available to everyone.
InCUBATE does not have non-profit status, instead we see our role as exploring new possibilities outside of the traditional models of 501c3 tax exempt status. We are interested in creating a network of opportunities and creative discussions, as well as sharing resources for creative urban and community planning and self-sustaining situations for art production. These activities include investigating current practices in public/private sponsorships for arts organizations, debating the pros and cons of incorporating as a non-profit, alternative means for financing 'under-the-radar' arts projects, and hosting exhibitions and symposiums to spark public discussion.
Centered in a storefront space adjacent to Chicago's historic Congress Theater, we consider our location to be an integral part of our activities and mission. We are interviewing local artists, curators, organizers, and collectives whose thinking extends beyond traditional modes of production and distribution. These discussions will be made public in order to start an open source of information-sharing about processes and strategies. While exploring our own process of becoming a research institute, we will also become a resource for others, which will manifest in various on-going projects.
One of these projects aims to assist the production of future projects. Through using the open source software MediaWiki, InCUBATE plans to create a wiki that will function to collect information for projects, collect historical and contemporary data about discursive art making, as well as information directed by the wiki users. Read more
---