This is a slightly abbreviated edition of our weekly post, due to the craziness that is VersionFest happening all weekend long. So much to see/do!
Thursday: (tonight!)
The Society for Contemporary Art presents: Cameron Jamie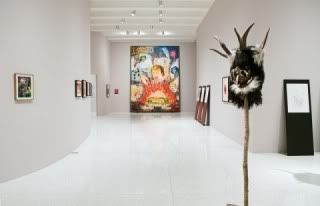 Artist Talk
April 23, 2009 6-7 p.m.
Price Auditorium
The Art Institute of Chicago
(312) 443-3630
$20/$15 for Society for Contemporary Art members, free for staff and students. Please call for more information.
From the press release: "Cameron Jamie investigates ritualistic practices, mythologies, and folkloric traditions that lie at the fringe of popular culture. Best known for his films, Jamie works across media, incorporating drawing, sculpture, photography, and performance in his exhibitions."
Friday:
Response: Art and the Art of Criticism
Opening!
Friday April 24th 5-7pm
I space
230 West Superior St.,
Chicago, IL 60654
Work by Fred Camper and Adelheid Mers; Janina Ciezadlo and Silvia Malagrino; Alicia Eler and Carrie Schneider; Jason Foumberg and Carol Jackson; Claire Wolf Krantz and Claire Prussian; Corey Postiglione and Duncan MacKenzie with Christian Kuras; Lane Relyea and Conrad Bakker; Polly Ullrich and Christopher Meerdo; Lori Waxman and Dianna Frid.
Sunday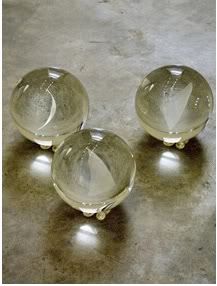 Opening!
April 26th, 2009 at 4 pm, discussion from 5-6pm
Renaissance Society
5811 S. Ellis Avenue
Bergman Gallery, Cobb Hall 418
Chicago, Illinois 60637
Via the Ren's
website
: "Titled after an essay by the late philosopher and literary theoretician Jean-Francois Lyotard, Several Silences is a group exhibition exploring various kinds of silence. As a discourse, the aesthetic of silence has been thoroughly domesticated within the visual arts. Although silence as a discourse in art arose out of conditions calling for the negation of art, it has subsequently become familiar subject matter no longer operating as the avant-garde ideal it once was. This is not to say silence has lost significance. If anything, it has become a more potent antidote to a culture of distraction. Silence, however, is not the absence of communication. It is dialectically opposed to communication, so that one sustains and supports the other. Inextricably bound to communication, which it tacitly evokes, silence itself is a form of communication with many meanings. There are voluntary and involuntary silences–some comfortable, others not. There is Cage's silence, which calls for the distinction between clinical and ambient silences. There is silence as conscious omission or redaction. And then there is memorial silence."
There will be a talk between Hamza Walker, curator of the exhibition, and Thomas Trummer, curator and Project Manager for the Siemens Arts Program, Munich, Germany, from 5 – 6 pm.
---

View Bad at Sports Guide to Version 09 in a larger map
Version Fest 09 begins today Thursday April, 23rd. There are a bunch of events that are going on for the next ten days. Here is a guide to what I will be checking out this weekend and next. This is not a list of all of the events, just a selected few. Be sure to check out Version's website for a full list of events. Sunday I will be posting a recap of Saturday's events.
For more information please visit Version's site
---
First there was Hevetica, the documentary about the font and typography in general. It was all the rage in art circles for a week and now comes the spiritual sequel Objectified which promises to do the same for industrial design.
Check out the trailer below.

---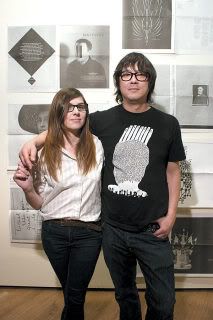 Version 09 begins this Thursday April 23rd. Ed Marszewski took some time out of his busy schedule to answer some questions and let us know what's going on over in Bridgeport.
So, Version was originally at the MCA and Buddy gallery?  Now that you have been based in the Co-Prosperity Sphere how has Version grown?
It started in 2002 at the MCA and was three days long. Over just a few years it spread throughout the entire city and was held everywhere from the Cultural Center, SAIC, MCA UIC, to contemporary art spaces alternative and trashy. It didn't get to buddy until the third Version where we started hosting events all over. It once lasted 17 days and we used to boast that this is how we would like to live every day.
Version is really five or six festivals combined into one ten day freak out. We have internationally curated video programs, our own version of an art fair featuring artist run spaces and groups, a great performance art program, incredible music, and works by over 350 artists displayed in our venues. This year we have artists hailing from Turkey, Germany, The Netherlands and of course many from our own back yard.
We like to concentrate our programming to reveal the diversity of tactics strategies and platforms used by cultural workers to expand our networks, distribute ideas, and show how incredible it is to live in this city. The festival is a completely open platform and each year it is created by a different cast of characters. Our role is to facilitate an realize what we think are some of the most exciting projects in the country. This make the festival very flexible and ensures that it will be a fresh (to us) experience each year. We are not stuck doing the same programming year after year and are able to initiate new platforms or initiatives at any time.
This year Version is going local and the festival is mostly taking place on the southside in Bridgeport and Hyde Park. We are hosting shows and exhibitions, live art, music, and some incredible projects at the ZHou B Center, Co-Prosperity Sphere, neighborhood galleries and a 100 year old community center and gymnasium called the Benton House.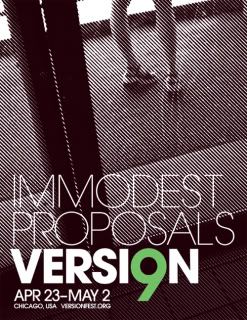 Could you talk a little bit about this years theme "Immodest Proposals"?
Each year we have an open ended theme to see what happens with the submissions.
This year we were into the idea of artists suggesting outlandish ideas that would probably not be realized. Fortunately for us many of them will be realized and initiated at this year's festival.
What is the Bridgeport WPA?
During the depths of the Great Depression of the 1930s and into the early years of World War II, the Federal government supported the arts in unprecedented ways. For 11 years, between 1933 and 1943, federal tax dollars employed artists, musicians, actors, writers, photographers, and dancers. Never before or since has our government so extensively sponsored the arts. – The National Archive
UNTIL NOW>>
We decided one immodest proposal we would like to see is the Obama Administration kick starting a 21st century Work Projects Administration that puts artists to work. The Bridgeport WPA is that pilot program
What are some of the highlights/ should not miss events for this years
festival?
OOO what a horrible question. For sure we are kicking ass all weekend
starting Thursday.
NOT TO MISS:
Thursday April 23 The Bridgeport WPA and Paul Sargents installation 5-
10pm
Friday April 24 : Our Audacity of Art group show and happening. *its our big
party) 7 – ?
Saturday April 26 All the programming arond the NFO XPO Our version of what
a dIY art fair should be.
1pm to 8pm
You should also attend: King Ludd's Analog Arcade at the Experimental
Station 2-8pm
Sunday April 27 if you didn't come Saturday to the NFO XPO you better come
Sunday.
May 2 : The first annual Chicago Art Parade. Bring your bunny costume.
For more information on Version 09 please check out their site.
---
New World Symphony founder and conductor Michael Tilson Thomas was building a new concert hall and convinced long time freind & architect Frank Gehry to design it. A $154 million interactive concert hall, a 2 ½-acre companion park, and, at the city of Miami Beach's insistence, a parking garage. With the nonprofit symphony footing most of the cost things seemed to be in order.
Now that the concert hall is under way, on time and on budget, things seem to be coming apart. The city apparently didn't equate the budget fully since now they are renegotiating the fee for the architect and pushing for the next door park to be designed by a less expensive group.
Gehry says fine and said Friday he is withdrawing from the park project. And he threatened to walk away from the project completely if city commissioners continue to harp on his fees, which he says they have exaggerated and misrepresented.
"I really find it insulting," Gehry said in a phone interview from his Los Angeles studio. "I'm offended. If they keep messing with me, if I get insulted enough, I will withdraw completely."

More can be read at the Miami Herald Report.
---