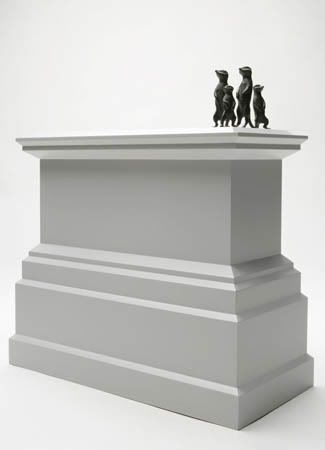 Tracy Emin has been in the news twice this past week. Emin is currently one of six artists being considered for a £300,000 ($436,717.30) commission for the fourth plinth in Trafalgar Square. According to London.gov, "The Fourth Plinth is in the north-west of Trafalgar Square, in central London. Built in 1841, it was originally intended for an equestrian statue but was empty for many years. It is now the location for specially commissioned art works." Emin's proposal is for a small cluster of meerkats standing on one side of the plinth.
Steve Henry, who is the creative director of TBWA, claims that Emin's proposal is totally jocking on an advertisement his company did for E.on which depicts a cluster of meerkats standing on boxes. Emin denies having seen the advertisement: "I haven't been influenced by any advertising campaign in my life. The fact is that I adore meerkats. I have drawings of meerkats from 12 years ago. I'm completely besotted by the creatures. A plinth is not a box … they have to be standing on a plinth as it's in Trafalgar Square."
Other artists being considered are Jeremy Deller, Antony Gormley, Anish Kapoor, Yinka Shonibare, and Bob & Roberta Smith.
In other news Emin will be inaugurating the Tracy Emin Library on February 18th in Uganda. The library will function as a center for adult literacy and computer skills, and will also serve 800 students between the ages of 12 to 18. Emin worked with the charity organization in order to build the library.
Meg Onli is a visual artist and blogger born and raised in Los Angeles, California. Meg moved to Chicago, Illinois in 2005 where she received a Bachelor in Fine Arts from the School of the Art Institute of Chicago. She has been with the Chicago-based art and culture podcast/blog Bad at Sports since 2006 where she is currently the Associate Producer. She has an unfathomable apatite for documentary films, 60s & 70s performance art, and cute cats. Meg has exhibited work in Los Angeles, Chicago, and New York City. Currently, she is working on a project that documents her steps in recording Motwon's first girl group sensation, the Marvelettes, version of "Where did Our Love Go?"