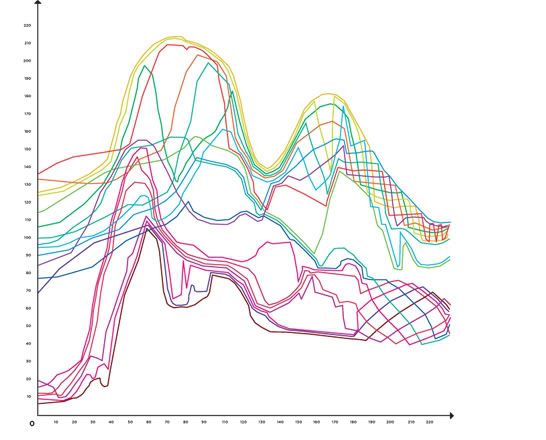 "This year's Select Media Festival has the theme of INFOPORN and features works by scientists, designers and artists from around the planet.
Come down this weekend. Friday and Saturday and Sunday all at the Co-Pro in Bridgeport and see a show that is dear to our hearts..
Visit the website: http://selectmediafestival.org and make sure you don't miss the action…
Or read below for to see the three days of the program ::
Friday November 14, 2008 8pm
Co-Prosperity Sphere™ 3219 S Morgan St (MAP)
Infoporn Opening Night
We open up the festival with the group exhibition, Infoporn. The exhibition explores the art of information design by artists from around the world. It is curated by Gregory Calvert and Ed Marszewski. The opening night of the festival also features performances from Chicago ex-pats, Eric Fensler and TRS-80.
Featuring the work of
Catalog Tree
Univerite Tangente
Eric Fensler
Jonathan Harris
An Atlas of Radical Geography*
Dave Bowker
Nicholas Felton
Edward Marcotte & Alex Adai
Stephanie Posavec
Logan Bay
Yunchul Kim
Aaron Koblin
Jean Livet
John Duda
Jude M.C.
Ryan Scheidt
Lumpen (The Subjective Atlas of Bridgeport DWNLD it now)
Jonathan Petersen
Alison Haigh
Benjamin June
Peter Skvara
Gregory Calvert
Logan Bay
The show runs through December 5, 2008. Hours are during festival hours and by appointment."
For more information please visit Select Media Festival's site.
Meg Onli is a visual artist and blogger born and raised in Los Angeles, California. Meg moved to Chicago, Illinois in 2005 where she received a Bachelor in Fine Arts from the School of the Art Institute of Chicago. She has been with the Chicago-based art and culture podcast/blog Bad at Sports since 2006 where she is currently the Associate Producer. She has an unfathomable apatite for documentary films, 60s & 70s performance art, and cute cats. Meg has exhibited work in Los Angeles, Chicago, and New York City. Currently, she is working on a project that documents her steps in recording Motwon's first girl group sensation, the Marvelettes, version of "Where did Our Love Go?"