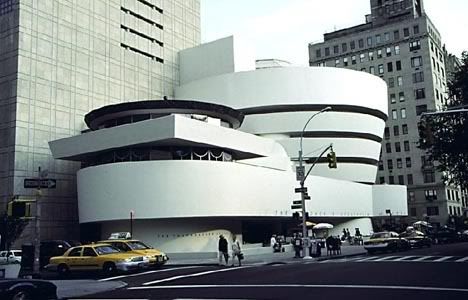 via the New York Times:
After a seven-month search, the Solomon R. Guggenheim Foundation on Tuesday named Richard Armstrong of the Carnegie Museum of Art in Pittsburgh as its next director.
Mr. Armstrong, 59, who has been director of the Carnegie for 12 years, succeeds Thomas Krens, who announced in February that he was stepping down after nearly 20 years.
In a decision that was widely reported in the art world, Guggenheim trustees settled on Mr. Armstrong in late August but did not vote formally until its board meeting on Tuesday afternoon. Their choice appears to signal a distinct change in style for the Guggenheim, whose international ambitions under Mr. Krens have stirred some conflict within the institution in recent years.
"We were looking for someone with a passion for art who understood that the New York museum is at the center of our universe," said Jennifer Blei Stockman, president of the Guggenheim's board.
Under the long tenure of the provocative Mr. Krens, the Guggenheim transformed itself into a global brand with branches in Berlin, Venice and Bilbao, Spain, as well as a planned museum in Abu Dhabi that is expected to open in 2013. Now the Guggenheim seems eager for a more centered presence.
"We interviewed a lot of young avant-garde European and American museum directors and thought, do we want another maverick who puts their stamp on the museum or a seasoned expert who is a wise adult and who would put the needs of the institution and the staff first?" Ms. Stockman said in a telephone interview.
Mr. Armstrong, who assumes the post on Nov. 4, will nonetheless be responsible for the foundation's global network of museums as well as its New York headquarters.
Just as the Metropolitan Museum selected a highly respected curator this month to be its next director, naming Thomas P. Campbell, a noted scholar, to succeed Philippe de Montebello, the Guggenheim's search committee opted for a leader with a long curatorial history rather than a professional administrator or a fund-raising wizard.
Before he was named director of the Carnegie in 1996, Mr. Armstrong served there for four years, initially as a curator for contemporary art and then as the chief contemporary-art curator. In 1995 he organized the centennial version of the Carnegie International, a sprawling contemporary survey show.
Mr. Armstrong is also deeply familiar with New York's museum culture. He worked at the Whitney Museum of American Art from 1981 to 1992 in curatorial posts and as senior instructor of its Independent Study Program. He helped organize three of the Whitney's Biennials – in 1987, 1989 and 1991 – along with a 1991 exhibition devoted to the sculptor Alexis Smith and other shows.
Sipping tea during an interview in the Carlyle Hotel, Mr. Armstrong who like Mr. Krens is tall and strapping at 6 feet 5 inches tall, said he saw his role as one of "empowering curators."
Mr. Krens was often criticized for organizing exhibitions that were so sweeping in theme that they sometimes lacked sharp scholarly focus, like "Africa: The Art of a Continent" in 1996, "China: 5,000 Years" in 1998 and "Brazil: Body & Soul" in 2001. Some faulted him for unconventional shows like "The Art of the Motorcycle" in 1998 and "Giorgio Armani" in 2000.
Mr. Armstrong said it was "unlikely" that he would pursue that type of programming. He said he did not know Mr. Krens and had not yet consulted with him about the Guggenheim.
As director, he said, one of his aims will be to draw on the Guggenheim's rich permanent collection as well as to present shows exploring what young artists are doing today.
"I remember when I was growing up the Guggenheim was frequently the source for enlightenment about European art, and then it had an edge for accommodating new, younger artists," he said.
Today, Mr. Armstrong said, he finds the Guggenheim's interest in Asia "and I hope Latin America" exciting. He said he was attracted by the museum's "ability to bring information to the public that might otherwise be overlooked."
Born in Kansas City, Mo., Mr. Armstrong studied art history at Lake Forest College in Illinois and said he was deeply influenced there by Franz Schulze, a historian of Modern architecture who he said helped him appreciate art as well.
Mr. Armstrong studied in France at the University of Dijon and then the Sorbonne in Paris."It was in France that I started looking at art more seriously," he said. "By the time I left I was pretty well hooked."
But his first memory of looking at art dates from when he was living in Washington in his early teens. "I would go to museums because they were air-conditioned," he said. "I particularly remember a painting by Arthur Dove at the Phillips Collection."
The Guggenheim has just completed a sweeping renovation of the facade of its 1959 Frank Lloyd Wright building. (To mark the occasion, a light projection by the artist Jenny Holzer made its debut on the facade Monday night and will appear each Friday night through December.)
Mr. Armstrong is no stranger to renovations. At the Carnegie he oversaw the refurbishing of several of the museum's exhibition spaces, including the Scaife Galleries and the Heinz Galleries and an expansion of the Heinz Architectural Center. He was also responsible for acquisitions like "Untitled (Domestic)," a monumental 2002 sculptural installation by the British artist Rachel Whiteread that the Carnegie bought jointly with the Albright-Knox Art Gallery in Buffalo.
In June Mr. Armstrong announced that he would resign as the Carnegie's director. "I slowly had come to the conclusion that I should wrap things up," he said, adding that he wanted to give his successor a long lead time to organize the next Carnegie International.
Although had not lined up a job, he said, he had had one "casual conversation" with the Guggenheim before he resigned.
Mr. Armstrong said he hoped to bolster the Guggenheim's online presence to help lure younger audiences to the museum. "It's their portal to knowledge," he said. "We've got a generation that knows all about Paris Hilton but nothing about Paris. That needs to be enriched and brought back into alignment."
He said that while he dislikes using the term "permanent collection" because it "turns everyone off," he hopes to find ways of re-interpreting the Guggenheim's holdings in eye-opening ways.
"That's one of the things you want to reassert especially to young people, who think everything is disposable," he said. "One of the charms of the museum is being able to go back time and again and see the same works in the same place month after month, year after year."
"Those talismans," Mr. Armstrong said, "are extremely useful to people's development."