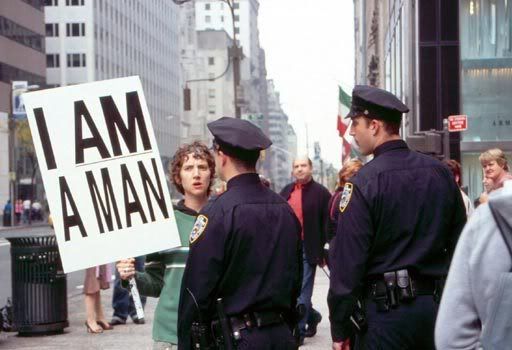 Creative Time's DRINK THE NEW WINE:Exquisite Dialogul
I haven't checked out Creative Time's website in a very long time. Since my last visit they have posted a series of interviews with a bunch of artists. The interviews feature: Malcolm McLaren, David Byrne, Matthew Buckingham, Sharon Hayes, Mark Tribe, Mike Rottenberg, Malclm McLaren, Genesis P-Orridge, Mika Rottenberg,Mark Tribe,and Susanne Oberbeck.
via creative time
"Here's how it worked: the artists engaged in a volley of two to three e-mail correspondences with each of two other artists we matched them with. Each artist instigated one conversation and was on the receiving end for the other. They were each provided with brief information on their partners' recent work and upcoming projects with Creative Time, but were encouraged to talk about anything of interest-related or unrelated to their projects, and from the politically important to the scandalous. As you'll soon read, they all took this to heart, and the conversations touch on the ideas that inspired their work, politics, sex, music, and even the sausages in Basel. "
Check them out here
Performa's Metal Ball
Last year while I was doing a residency program in New York I was able to check out a few performances from Performa 07. Performa is a non-profit organization that is "committed to the research, development, and presentation of performance by visual artists from around the world." Proceeds from the ball will go towards Performa 09
"The Metal Ball is inspired by the Bauhaus' Metallic Festival, when the famous school was decorated entirely in metallic colors and substances and guests reveled in an exuberant festival of music, light and action. Following the enormous success of Performa's 2006 White on White Party, The Metal Ball will once again feature an exciting line-up of art and musical performances presented on multiple stages throughout the evening. " For more info pleas visit Performa's site.
Have a good weekend everyone.
Meg Onli is a visual artist and blogger born and raised in Los Angeles, California. Meg moved to Chicago, Illinois in 2005 where she received a Bachelor in Fine Arts from the School of the Art Institute of Chicago. She has been with the Chicago-based art and culture podcast/blog Bad at Sports since 2006 where she is currently the Associate Producer. She has an unfathomable apatite for documentary films, 60s & 70s performance art, and cute cats. Meg has exhibited work in Los Angeles, Chicago, and New York City. Currently, she is working on a project that documents her steps in recording Motwon's first girl group sensation, the Marvelettes, version of "Where did Our Love Go?"