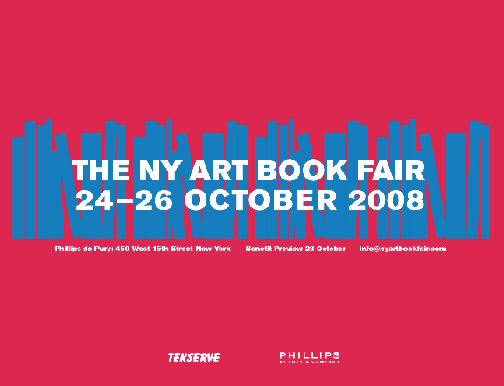 Printed Matter's annual fair of contemporary art books, art catalogs, artists' books, art periodicals, and 'zines offered for sale by over 140 international publishers, booksellers, and antiquarian dealers. Admission to the fair is FREE.
LOCATION
Phillips de Pury & Company
450 West 15th Street at 10th Avenue, 3rd floor, NYC (map)
FAIR HOURS
Friday/Saturday, October 24 & 25, 2008, 11am – 7pm
Sunday, October 26, 2008, 11am – 5pm
Admission to the NY Art Book Fair is free.
BENEFIT PREVIEW
6 – 9 pm, Thursday, October 23, 2008
$20 – general admission plus
ticket edition by Jonathan Monk
$150 – general admission plus
"I Married an Artist," by Anne Collier and Matthew Higgs, edition of 150
For more information please visit their website.
Meg Onli is a visual artist and blogger born and raised in Los Angeles, California. Meg moved to Chicago, Illinois in 2005 where she received a Bachelor in Fine Arts from the School of the Art Institute of Chicago. She has been with the Chicago-based art and culture podcast/blog Bad at Sports since 2006 where she is currently the Associate Producer. She has an unfathomable apatite for documentary films, 60s & 70s performance art, and cute cats. Meg has exhibited work in Los Angeles, Chicago, and New York City. Currently, she is working on a project that documents her steps in recording Motwon's first girl group sensation, the Marvelettes, version of "Where did Our Love Go?"