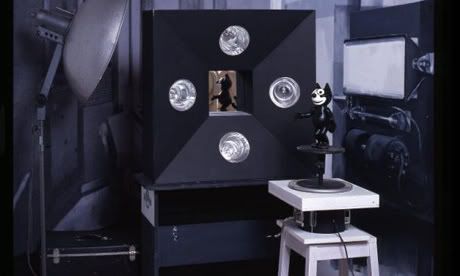 via The Guardian
"…Mark Leckey was named winner of Britain's most important contemporary art prize and said he now wants his own variety programme: 'Like the Two Ronnies. But with art.'
Leckey, Birkenhead-born and a part-time professor of film studies at Frankfurt's Städelschule, was presented with the prize and £25,000 cheque by the singer Nick Cave during a ceremony at Tate Britain broadcast live on Channel 4.
The centerpiece of his Turner prize exhibition was Cinema-in-the-Round, a witty meditation on the nature of film in popular culture, taking in everything from Garfield the cat to Homer Simpson and James Cameron's Titanic.
For a prize that has thrived on outraged headlines about unmade beds and lights being turned on and off, the most controversial thing about this year's prize was its lack of controversy.
The most that could be mustered was half-hearted tut-tutting over an exhibit featuring a naked mannequin on the toilet. Many critics complained the exhibition was too dry, too academic and, worst of all, too dull."
Read the entire article here
Meg Onli is a visual artist and blogger born and raised in Los Angeles, California. Meg moved to Chicago, Illinois in 2005 where she received a Bachelor in Fine Arts from the School of the Art Institute of Chicago. She has been with the Chicago-based art and culture podcast/blog Bad at Sports since 2006 where she is currently the Associate Producer. She has an unfathomable apatite for documentary films, 60s & 70s performance art, and cute cats. Meg has exhibited work in Los Angeles, Chicago, and New York City. Currently, she is working on a project that documents her steps in recording Motwon's first girl group sensation, the Marvelettes, version of "Where did Our Love Go?"