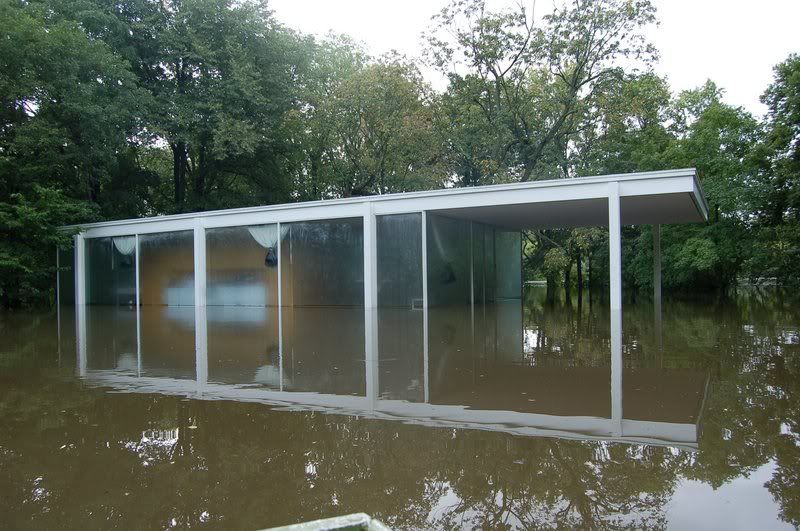 This is old news but still worth posting. Mies van der Rohe's Farnsworth House was flooded earlier this month due to heavy rains.
If you are interested in donating to help with preservation check out the Farnsworth House website.
Via the Farnswoth House website:
"Ludwig Mies van der Rohe's famous modern masterpiece, the Farnsworth House, fell prey to Mother Nature Sunday, September 14, as flood waters rose almost two feet over the top deck, entering the house. Built within the flood plain of the Fox River in Plano, Illinois, the house stands on columns five feet above ground which proved not high enough as record breaking rain amounts brought the river more than 14 feet above its normal level. More than eight inches of rain fell in two days as Tropical Storm Lowell passed through Saturday, immediately followed by the remnants of Hurricane Ike Saturday night and Sunday. Fox River waters rose quickly and by Sunday morning, September 14, they had breached the interior of the house by over a foot.
The house will be closed for tours until further notice. Staff will assess the damage immediately and begin discussions with the insurance carrier in an effort to begin clean-up immediately. Landmarks Illinois and the NTHP asks the public to please make a donation today to help support this massive effort to restore an architectural icon. "
Meg Onli is a visual artist and blogger born and raised in Los Angeles, California. Meg moved to Chicago, Illinois in 2005 where she received a Bachelor in Fine Arts from the School of the Art Institute of Chicago. She has been with the Chicago-based art and culture podcast/blog Bad at Sports since 2006 where she is currently the Associate Producer. She has an unfathomable apatite for documentary films, 60s & 70s performance art, and cute cats. Meg has exhibited work in Los Angeles, Chicago, and New York City. Currently, she is working on a project that documents her steps in recording Motwon's first girl group sensation, the Marvelettes, version of "Where did Our Love Go?"