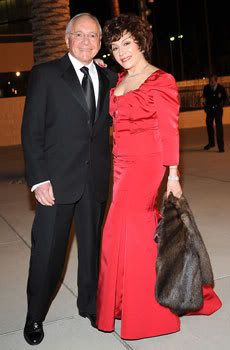 via the Los Angeles Times:
LOS ANGELES – The Los Angeles County Museum of Art plans to announce on Monday that it has received a $45 million cash gift and the promise of $10 million in artworks from Lynda and Stewart Resnick, a Beverly Hills couple who are longtime supporters of the museum.
The cash gift, $25 million of which had previously been disclosed, will be used to finance a new 45,000-square-foot exhibition pavilion designed by Renzo Piano. It will be immediately behind the Broad Contemporary Art Museum, which opened in February on the museum's campus.
Construction of the building, which is intended to house special exhibitions and will bear the Resnicks' name, began earlier this year and is expected to be completed in 2010.
The gift comes at an uncertain time for the art world generally and for the museum, which has been moving quickly to overhaul itself since Michael Govan, who formerly led the Dia Art Foundation in New York, took over as museum director in the spring of 2006.
The museum has already raised the $201 million needed for the first phase of the rebuilding plan.
Cultural institutions have been left wondering in recent weeks what will become of some of their largest financing sources as a national economic crisis unfolds. Four prominent financial institutions that were significant contributors to museums and arts programs – Bear Stearns, Merrill Lynch, Lehman Brothers and Washington Mutual – have shut down, been acquired or seized by regulators.
In 2006, before Mr. Govan's arrival, the county museum announced that a new entrance pavilion, part of Mr. Piano's redesign of the campus, would be named for the Resnicks in recognition of their $25 million gift. But when the museum received a separate $25 million contribution last year from the oil company BP, the Resnicks agreed to let the company have naming rights instead to what is now the BP Grand Entrance, a new open-air entryway on Wilshire Boulevard between the Broad Contemporary and the museum's older buildings.
Mr. Govan said that the new building, to be known as the Lynda and Stewart Resnick Exhibition Pavilion, would free up more space to display the museum's permanent collection.
The Resnicks share the chairmanship of Roll International, a private holding company that owns Paramount Citrus, one of the country's largest citrus producers, and Paramount Farms, which distributes almonds and pistachios. The company also owns Teleflora, the flower-delivery service, and the consumer brands Fiji Water and Pom Wonderful pomegranate juice.
The glass-and-marble Resnick exhibition pavilion will be a large open-plan light-filled space with a concrete floor and sawtooth roof to complement the one in Mr. Piano's Broad building.
Details of the couple's $10 million art donation have not been revealed. The Resnicks are particularly known for their collection of old master paintings and sculpture. Mrs. Resnick, who has been on the museum's board since 1992, is chairwoman of the acquisitions committee. Museum officials declined to make the Resnicks available for comment before the announcement on Monday.
The new building is part of the second phase of the county museum's redesign, which includes the installation of several outdoor artworks, including Michael Heizer's "Levitated/Slot Mass," a 400-ton boulder to be suspended on two concrete rails above a pit carved out of the earth, into which visitors are expected to be able to walk.
The museum has also embarked on a feasibility study for the installation of a Jeff Koons sculpture, "Train," which consists of a 70-foot replica of a 1940s locomotive to be suspended from a 161-foot-tall crane over a plaza on the museum campus.
The second phase of the rebuilding plan is also to include the renovation and refurbishment of the former May Company department-store building, now known as Lacma West, at the southwestern corner of the 20-acre campus. That building will house flexible gallery space, education space, administrative offices, a new restaurant, a gift shop and a bookstore, as well as study centers for the museum's departments of costume and textiles, photography and prints and drawings.
Lacma West will also include a roof sculpture garden with two works by James Turrell, "Missed Approach" and "Boullée's Boule," one of Mr. Turrell's "skyscapes."
---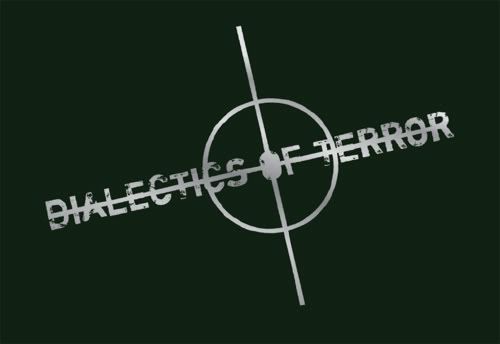 It appears that last weeks drama over the cancellation of the Chelsea Art Museum show, The Aesthetics of Terror ( Which was renamed Dialectics of Terror) was just the tip of the iceberg. Paddy Johnson of Art Fag City has chatted it up with CAM President Dorthea Keeser. She also has another post on her blog that links to a pdf version of the shows catalog.
Via AFC
President Dorothea Keeser at the Chelsea Art Museum spoke to me today about The Aesthetics of Terror, an exhibition this blog reported in error had been canceled on her authority. Curator Manon Slome called a halt to the exhibition as a result of significant differences in opinion regarding content and the direction. While the details remain murky, frankly, it seems difficult to imagine a political themed show weathering well executive decisions made with the rationale, "That's not art".
Paddy Johnson: We discussed this a little over email, and I wanted to continue this with you now so you have the opportunity to express the museum's view point.
Dorothea Keeser: The problem is that you had something that is completely wrong, because the curator Manon Slome quit and canceled the exhibition in the same email. She did not quit as a response to anything we did. On the contrary, we accepted the final version of the catalog about 6 hours before this.
Paddy Johnson: So she didn't quit as a response to what you had done? I understood the opposite from what an artist had written about the show. It was taken from an email Manon forwarded to me this morning. I'll read you what she wrote:
Dear Friends and colleagues,
You probably gathered from the change of title and the constant changes of date that there were problems at the Chelsea Art Museum regarding the exhibition which began as "Aesthetics of Terror." Having been on the calendar and in preparation for almost two years, with everyone kept fully involved in the show's development, the president of the museum concluded that the show glorified terrorism and showed disrespect for its victims.
Our willingness to accommodate and conduct an attentive and sensitive dialogue with the museum, was met with increasing hostility. What began with questions as to the title soon evolved into tactics of blocking, demands for change, for the elimination of some work, some essays and images from the catalogue which would have seriously compromised the show. As a result Manon resigned from the museum and we pulled the show.
…
Dorothea Keeser: It is incorrect that it went beyond a normal discussion, about this or that text and about, for example, severe grammatical catastrophes that should have been corrected before the printing. I think it is very acceptable to criticize [a catalog with] an introduction which I wrote. So if I write an introduction for an exhibition, it is an exhibition which has been discussed with me, it has been accepted by me. I have been very integrated. I translated German text for her that was never put into the catalog. But that doesn't mean that we didn't have a normal professional dialog. Nothing sounded like what you read to me.
Paddy Johnson: So you never said that the show glorified terrorism and showed disrespect for its victims?
Dorothea Keeser: I said there were several exhibition parts which glorified terrorism and which disrespected the human beings. Absolutely. I am absolutely able stand up for that because that is my opinion. I do not think that an artist should show children and women which are torn apart by bombs. That is not the question for the artist. An artist has to go one step beyond, and find what are the reasons for terrorism and how one can go to another way a revolution against terrorism, and not just show very banal photos which we see every day in the television. That's not art.
Paddy Johnson: So which artist is doing that?
Dorothea Keeser: I do not know, and would not like to get into the discussion of whether I did not like this or that artist. I only went into the discussion that I think we have to discuss both sides; why there is terrorism, and what other possibilities there are. A lot of peace makers have had very big success. The only way to fight is not to throw guns at innocent people. And this is the perfect exhibition to discuss these ideas and not to cancel it! This openness for discussion was completely lacking because if I say something like this, I do not criticize, I try to help. I want to open a discussion and a dialog.
A response from Curator Manon Slome
I would like to say that I am not looking for controversy. I was surprised by Dorothea's turn against the show as she has always showed a wonderful tolerance for individual rights and political freedom. I now only seek a receptive venue to place what I believe is an extremely important exhibition that sheds light on an undeniable phenomena of our times.
Editor's note: Technical problems resulted in a fragmented post earlier today. Apologies.
---
Audio clip: Adobe Flash Player (version 9 or above) is required to play this audio clip. Download the latest version here. You also need to have JavaScript enabled in your browser.
This week we return to the local Chicago Art world and the things that mean most to us.
First, we check in with Allison Stites at the Around the Coyote and ask why and how the city's main emerging arts festival is moving from the community that gave it life. There are some good answers.
Then we check into what is going on with Chicago's Allrise gallery. It's director, Lisa Flores, tells us about how she is moving heaven and earth to do weekly shows and how you can get involved.
Finally, the BOOK Review is back! This week we chat about David Carr's "The Night of the Gun." Also, we want to let everyone in the world know that celeb author Naemm Murr is reading at the Parlor on October 7th. Be there.
PLEASE VOTE FOR US!!!
http://www.podcastawards.com/
Read more
---
Grade school textbooks circa 1980, they really talk after you sniff the Elmer's glue, or as 7 year old Dwayne told me it's called "Huffing".
---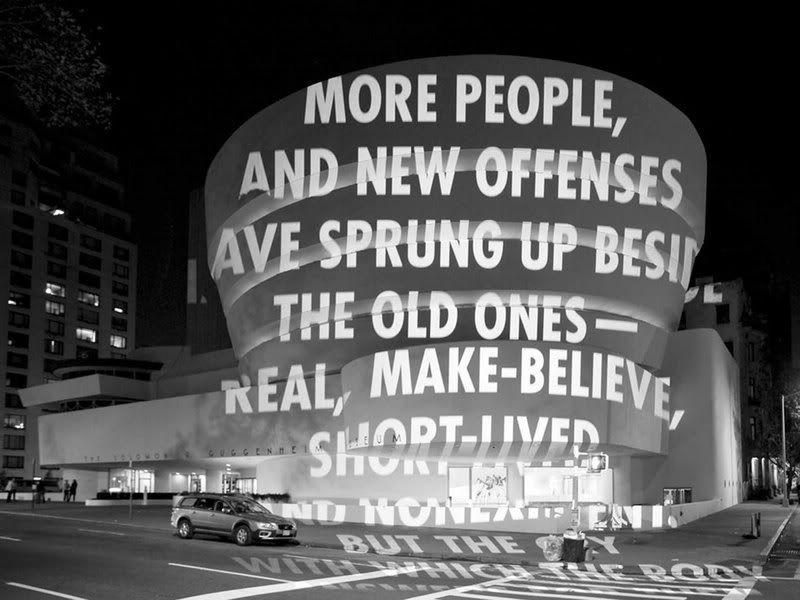 via Art Observed:
Jenny Holzer's site-specific design for the facade of the Soloman R. Guggenheim museum is now on display. The Guggenheim commissioned the piece to mark the completion of the museum's three-year restoration project. The piece is a light projection of political statements about terrorism and the Iraq war along with poems by Nobel Prize recipient and Polish poet Wislawa Szymborska. The work was inaugurated September 22 when Mayor Bloomberg switched on the installation causing the epigrams of white capital letters to cascade down the building. The work entitled "For the Guggenheim" will be on display from sunset to 11 PM every Friday through December with a special showing on New Year's Eve.
---