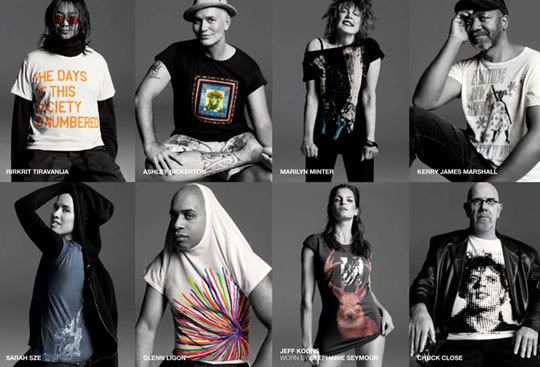 via highsnobiety
Building on its long history of supporting the arts, today Gap introduced Artist Editions T-Shirts, a limited edition collection of t-shirts designed by 13 of today's most influential contemporary artists, including Chuck Close, Jeff Koons, Marilyn Minter, Kiki Smith, Cai Guo-Qiang, Barbara Kruger, Ashley Bickerton, Kenny Scharf, Glenn Ligon, Rirkrit Tiravanija, Kerry James Marshall, Hanna Liden and Sarah Sze.
Gap worked in close partnership with the Whitney Museum of American Art and Art Production Fund to create the collection with the 13 artists, who are all previous Whitney Biennial participants. The Whitney Biennial is a special exhibition held every two years at the Whitney Museum of American Art that features the most important contemporary art in the United States. Gap is a proud sponsor of the 2008 Whitney Biennial.
The limited edition collection is available exclusively at select Gap stores in the U.S., Canada, the U.K. and franchise markets, as well as online in the U.S. at gap.com. It's also available at the Whitney Museum of American Art, the San Francisco Museum of Modern Art, the Museum of Contemporary Art Chicago, the Museum of Contemporary Art Los Angeles, the Walker Art Center in Minneapolis and at Colette, a Paris-based boutique. The t-shirts range in price from $28 to $38.
---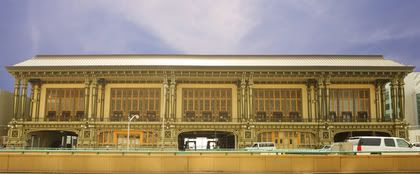 "I'd like to say that in a small way it turns consumers into creative producers," Byrne explains on his official site, "but that might be a bit too much to claim. However, even if one doesn't play the thing, it points toward a less mediated kind of cultural experience. It might be an experience in which one begins to reexamine one's surroundings and to realize that culture — of which sound and music are parts — doesn't always have to be produced by professionals and packaged in a consumable form. "I'm not suggesting people abandon musical instruments and start playing their cars and apartments," he adds, "but I do think the reign of music as a commodity made only by professionals might be winding down. The imminent demise of the large record companies as gatekeepers of the world's popular music is a good thing, for the most part."
---
Audio clip: Adobe Flash Player (version 9 or above) is required to play this audio clip. Download the latest version here. You also need to have JavaScript enabled in your browser.
This week the West Coast Crew heads down to Ratio3 to talk to Ryan McGinley and gallerist Chris Perez.
Ryan McGinley makes large-scale color photographs of nudes in abstracted natural landscapes. With his subjects as willing collaborators, he used photography to break down barriers between public and private lives. Drawn from skateboarding, music, graffiti and gay subcultures, his models perform for the camera and expose themselves with complete self-awareness.
McGinley's more recent work signals a departure from the urban youth culture images for which he is well known – over the past few summers he has been working almost exclusively in natural settings in the American west.
At 24, he was the youngest artist to have a solo show at the Whitney Museum of American Art. He has also had solo exhibitions at PS1 and in Spain at the MUSAC in Leon. In 2007 he was awarded the Young Photographer Infinity award by the International Center for Photography.
Read more
---
First we had a story on a visually harmless apple computer virus that gets the drop on your desktop. Then we had a episode that included the Helvetica independent film that came out and was a great watch. Take the two and put them together and you get the Bullet Speed Helvetica Dropclock Screensaver™ which will make everyone happy and macophiles feel warm in that special place we only point to on dolls.
Check it out and have fun, it can be downloaded here
---
From the website of the artist Ranjit Bhatnagar:
"Simple automatic instruments are constructed from local materials and objects on site. The system learns the sounds it can make by trying out its instruments, and then uses its range of sounds to try to reproduce the rhythmic and melodic qualities of sounds such as the voices of visitors. It then loops and alters these imitative sequences into improvised compositions. (That last part's not done yet, so you won't see it in the video.)
In this example, the source audio is a bit of the soundtrack from the movie Citizen Kane, and the noisemakers are a set of found object percussion machines and an electromagnetically fretted electric guitar."
The tech is pretty basic and the conversion to music is largely straight forward but the presentation of the idea is pretty sharp. I would love to see how well the system works with a high noise to signal ratio. Can it only make "music" in a relatively quiet room of two people talking or can it eliminate some white noise to find the melody of a large conversation.
---